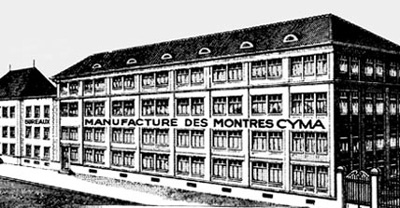 The Swiss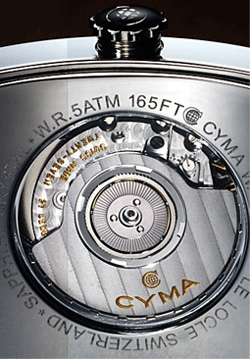 company CYMA (Myriade) was founded in 1862 by brothers Schwab. The French word Cyma is identical to the English word «summit». The company creates its own history with every new product. In the early of XX century, it creates complicated chronographs with ultra-thin mechanisms for pocket watches. In 1905, CYMA makes its famous caliber 701 with a thickness of 3.85 mm. The model was a great success, and in the same year, it was sold all over the world.
In 1915, the company developed a shock resistant watch, which was also the first waterproof model. In 1943 Cyma launched its first self-winding watch equipped with a unidirectional rotor. In 1945 the company created the famous alarm "8 day alarm". In the 60's Cyma created an innovative model, designed for extreme conditions. In 1980 the ultra thin watch with a manufacture caliber 6x7 ¾, that its technical equipment have been one step ahead of many watch companies. In 2004 the company produced 40 collections, which were inspired by famous models Cyma of 40s of XX century. This is a watch that combines classic design and high technology.

In 2010 Cyma created a new collection of quartz chronographs Myriad. The collection includes three lines: Chrono New World, Chrono Fascination and City. The name Myriad reflects the basic idea of the new collection. The designers have developed the theme of the universe, but it's not an astronomical watch. The luminescent dials of some models remind satellite images.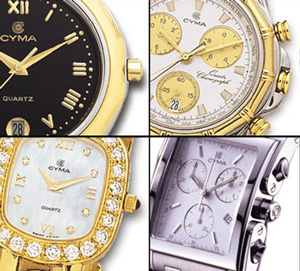 The model Chrono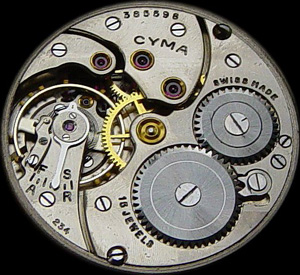 New World is automatic chronograph made of stainless steel, the case is covered with PVD coating, caliber ETA 7750 (Valjoux 7750), a rotating steel bezel, sapphire crystal, rubber strap, black mat luminescent dial, water resistance 5 ATM.

The model Chrono Fascination is quartz chronograph, caliber 121 / 2 5040 B Ronda. The case is made of stainless steel with PVD coating, rotating bezel, the bracelet is also made of stainless steel, sapphire crystal, luminescent dial, water resistance 5 ATM.

The line City includes both female and male quartz watches. The case is made of stainless steel, caliber Ronda, case and stainless steel bracelet, luminescent dial, sapphire crystal, PVD coating, water resistance 5 ATM.