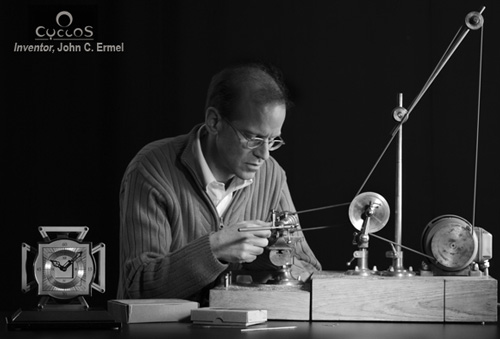 The idea of creating a wristwatch CYCLOS arose because of dissatisfaction with conventional dual 12 - hour scale, since each point of dual scale shows both the cycle of day and night without the possibility of differences between them.
In 1989 an architect and designer John C. Ermel, working on the order of the new design watches, decided to create a watch with a different scale of day and night. This revolutionary scale He has placed this revolutionary scale with the help of radially adjustable hour hand. The novelty was introduced with 24 - hour scale. He did this watch scale on the base of the so-called Pascal spiral. In 1999 he has patented his idea. It took him 10 years to develop the necessary mechanism for controlling the hour hand and this mechanism has become a real miracle in the Swiss watch making.
In 2003 the watch company CYCLOS has presented two collections of these revolutionary watches: sporty "a.m./p.m." and classical "a.m./p.m". The collection "a.m./p.m." includes models with steel case, which hourly scale of the dial is divided into red, indicating the day, and blue, indicating the night. Each scale consists of 12 hours. The collection "a.m./p.m." presents models with the case of 18 - karat yellow or red gold, which dials also include two 12 - hour scales. The outer golden scale shows the afternoon, and the inner, made of white gold or silver, shows the night. Two scales are separated by the position of 6 / 18 hours.
All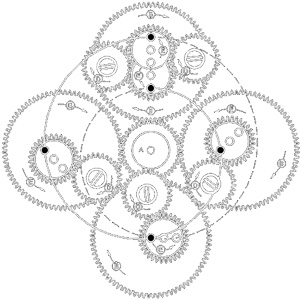 models of two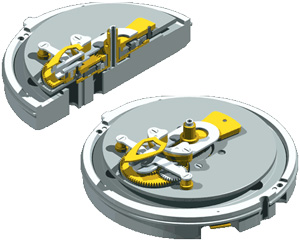 collections, presented by CYCLOS, are equipped with a self-winding movement caliber ETA 2892-A2. Dial, coated with sapphire crystal, is presented in black and silver versions with different colors of day and night time cycle. Hands are coated with fluorescent coating (except the model "Transparent Edition"). Strap is made of calfskin (sport model) or black / brown alligator skin (classical model).
Amazing wristwatch CYCLOS on the wrist, of course, emphasizes individuality and impeccable style of its owner.
Today buy a watch CYCLOS one can from some of the most exclusive jewelry and watch stores. However, if none was found nearby, it is available to order this amazing watch at the official web site of the company.