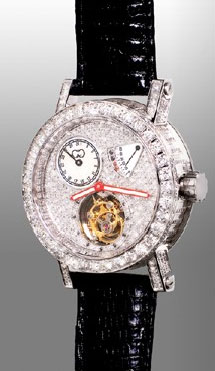 The history of the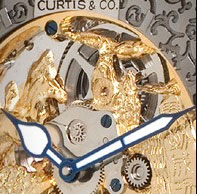 company Curtis & Co started with a passion of its founder Curtis Wong for creating and assembling watches. Curtis & Co was literally "grown" from an idea to create a watch for friends. Thus the history of Curtis & Co began.
Several years ago, businessman Curtis Wong, traveling around Europe, was struck by the variety and luxury of watch products that were offered in the shops of London, Paris, Munich, Geneva and other cities. At that time Curtis liked wristwatches, and passion for creating of watches began immediately appearing in his work. And as the business of young man was developing successfully, he began to collect items from the creators of the world's top watch brands. However, it was something more, that inspired him in watch making. Curtis began to study the "handwriting" of the best watchmakers of the world, at the same time noting all the details that he could change in his own way. Soon, he began searching for a team that could work with him.
The first step of Curtis & Co was a watch with special mixtures of carbon fiber, precious metals of the highest standard and precious stones, which Curtis offered his friends. Elegant design and cutting-edge technical performance of the first samples of watches Curtis & Co had a hearty response from his friends. Curtis began to study the old traditions of watch making, because he wanted his watches to be more "serious". Is it Impossible? But Curtis believed in his dream and began traveling around the world in search of watchmakers that could realize the watch of his dream in life.
The main goal that the company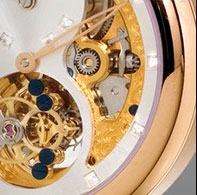 wanted to achieve was to create high-end watches, which would be available to the general mass of consumers. Lovers of a good watch products should have high-end watches made of precious materials without giving a fortune for them – the company Curtis & Co continues to develop this concept. Thus, the purpose of Curtis & Co was the combination of these qualities with the price that can be paid by ordinary people.
Curtis took a three-year trip around the world. That he found where led him to delight: Old World's watchmakers, practicing the lost tradition of watch making, which have been passed from generation to generation. They became the ones who shared with Curtis his dream of creating watches combining cutting-edge technology and materials, and elegant handmade work.
Watches by Curtis & Co dilute your everyday life like a bright spot. Performed on the basis of the Swiss mechanism Valjoux 7750, these watches are distinguished by quality and functionality, which is the main advantage of this enhancement.
Timepieces of the company Curtis & Co are presented in collections "Big Time Air", "Big Time World", "Big Time World on Ice", "Big Time Race", "Big Time Ice", "Big Time Masterpiece", "Big Time Hers " and "Big Time Limited Edition".