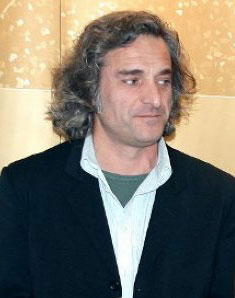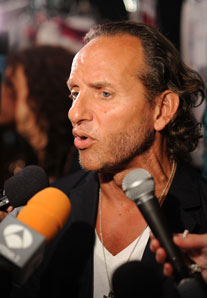 Custo Barcelona is a Spanish brand which produces different kind of production: clothes, foot-wear and accessorizes which are quite popular all around the world. The company was founded in 80-s of 20th century by two brothers Custo and David Dalmau. In a short period of time they opened more than 3000 boutiques all around the world.
Two brothers were born in Spanish Catalonia in a Tramp village not far from Lerida. Custo was fond of architecture and David adored art history and art criticism. Everything started when two brothers decided to go on a trip by their bikes. South California made the most unforgettable impression on them. It was beautiful, landscapes were amazing, people were kind, but surfing was something that they wil remember for a long time. Inspired by the trip Custo and David returned ti their motherland and in the beginning of 80-s started up their own business of clothes making which was produced by the name of Custo Line.
In a short period of time brothers learned paints characteristics in order to make themselves prints on the produced clothes instead of sending them to dyers. T-shirts and shirts decorated with prints, embroideries and different prints became a radically new kind of style and had a huge success. Time passed and assortment was enlarged and by adding new models: jackets, coats, skirts and many other accessorizes.
In 1996 brothers decided to rename their company and called it Custo of Barcelona, later preposition "of" was excluded from the name. Custo Barcelona company released clothes in collaboration with textile manufacture Meyba. Brothers spend all their time on design work. Company's production attracted attention of customers not only in their motherland. For 11 years brothers moved to New York where ther expectations were crashed. After a bad trip Custo and David moved to Los Angeles , where they secured the owners of some shops that their production is the the pink of fashion. Very soon a lot of celebrities, who has visited these shops, appeared on a public, being dressed in Custo Barcelona t-shirts.
In 2003 Custo Barcelona brand was famous by its particular stylish features – patchwork, clothes applications and stripes. Except clothes they also produced jeans, bags, foot-wear, perfumes and watches. As Custo mentioned: "it was a good experience to transfer the language of clothes to the language of aromas. It gives an opportunity to examine one's creative abilities in absolutely new area. As I for me, aroma is absolute synthesis of emotions".
There also should be mentioned that female aroma is made by a perfumer Alberto Morrilas. Designers were awarded by a prize "Glamour Award" in a category: "The Best Perfume of the Year". The bottle of perfume was made by brothers with the reference to their traditional style.
Custo has an experience in interior design; he decorated one of Mexican hotels. He also designed a uniform for a personnel, decorated walls, and also thought out in details the way of swimming pool decoration.
Spanish company Custo Barcelona being directed by talented brothers now present to a world trade a collection of conceptual sun glasses, wear, foot-wear, bags, perfumes and watches. All this products have spirits of India, Japan, Scandinavia, America and other countries. These two brothers were the first who combines some kinds of textiles in one product. Thanks to original design Custo Barcelona production is chosen by celebrities.
A special place in Custo Barcelona's collections is set aside for watches which design amazes. Men and women – both can find in Custo Barcelona collections suitable watches according to their tastes and preferences. Custo Barcelona watches are made of high quality materials and are supplied with quartz movements. Everyone who wants to emphasize one's bright image choose Custo Barcelona watch.
If you want to by Custo Barcelona watch you are to visit Custo Barcelona official web-page.