Italian watch company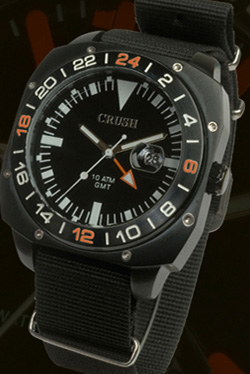 Crush was created in 2005. The company specializes in the manufacture of watches for the military and police. The company Croton is in close collaboration with the Italian army. Italian watches Crush are made exclusively of high quality materials and undergo a rigorous examination. The collection of Crush includes a few lines, which more or less reflect the specifics of the company. Design approach emphasizes the professional and masculine nature of watches. Their minimalist image is compounded by clear hour markers and black background of the dial. Easy readable dials are covered with a luminescent layer, making them visible in the dark.
Wrist watches Crush are equipped with a mechanism of Japanese company Citizen. The case is made of stainless steel, the dial is covered with mineral glass and straps are made of leather or two-layer nylon.