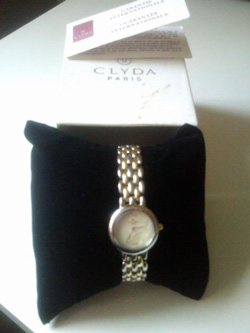 Watch brand Clyda was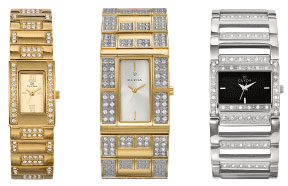 founded in 1939 by Parisian designer Teylor Jules. Until 1966, the production of the company was not thriving, but when the paths of manufacturer Roger Monin and designer Teylor Jules crossed, the brand gained success. This cooperation has proved very successful and the factory of Roger Monin began producing watches Clyda. This factory was located in the city Sharkemon. Soon after the production increased, and the watches Clyda became known throughout the world. The first item of "conquest" was Germany.
In 1988 production of Clyda spread the sphere of influence all over Europe. Today this brand's watches are sold in 55 countries worldwide. The grand success of the production was not accidental: the producers have developed correct economic policy that led to correct and competent market segmentation and to determine what emphasis should be put into production at. The company Clyda focuses only on the women's segment and produces elegant jewelry watches. The brand has developed its own style, thanks to the visual originality of its products. Perfectly sound design of watches Clyda draws the eye by the perfection of lines.
Production of this brand is the creation of jewelry art with an exclusive French charm. It is the inspiration for women, who are outside of the passage of time. The brand has already released released about 500 models of women's watches in the "jewelry style".
Products of the brand are equipped with Japanese movement MIYOTA, the case is made of stainless steel 316 L. Glass is mineral, as well as in creating of ornaments is used ceramics, pearls, semiprecious stones of Swarovski. The entire range of watches Clyda is divided into three collections: Les Essentielles, Les Parisiennes and Les Eternelles. Design of the collection Les Essentielles is traditional enough. Models of this series have oval and round cases, twisted bracelets or leather straps, gold, silver or mother of pearl dials. Collection Les Parisiennes is designed for active and modern women. Large parts of these watches and straight lines perfectly complement the image of business-woman. That is why the product of Clyda is more like jewelry accessories than traditional watches.

Watches of collection Les Eternelles are created for connoisseurs of luxury. The unusual shape, shiny crystal and precious metals, pearls play – it is simply impossible simply to tear off a sight from these beautiful creations. With their help, you can emphasize your individuality, femininity and infernality. Watches Clyda show sophistication, elegance and charm. They reflect the eternal feminine passion for beauty, fashion and elegance. Stylish design of watches Clyda conquers its perfection. They perfectly complement any image that you created. Buy Watches Clyda possible at a reasonable price. Face of the brand Clyda is the most beautiful woman of the past century - Marilyn Monroe, and brand's slogan is the words of the famous song: "I wanna be love by you, just you".