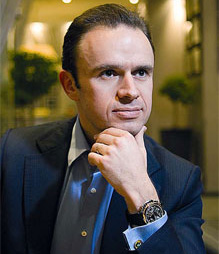 Swiss watch company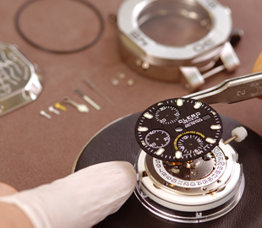 Clerc was founded in 1874. It is led by the fourth generation of family Clerk. The brand produces watches in limited series. In all models of Clerc are used a unique combination of materials: stainless steel, gold, diamonds, carbon fiber and rubber. In each model there is a strong character and the story, which is behind the creation of each material. Clerc is a small company; it produces approximately 3,000 hours per year. The models are often based on original orders for heads of state, royalty and famous artists. The collection Clerc also presents open worked models, which is impressive for its storied paintings, hidden within watches.
In 2010 the company introduced its new product - Odyssey Lady Skeleton. At this time, Clerc decided to experiment with jewelry design of watch. In this model designers tried to combine aesthetics with the futuristic chic and glitter of jewelry. Model-skeleton is made of 18 carat red gold; the case diameter is 37 mm, titanium bezel, alligator strap or satin. Watch is equipped with a manufactory mechanism caliber 604 with 21 jewels. The oscillation frequency of the balance is 28.800 vph, power reserve is 42 hours.
Model Hydroscaph (2009) is developed in collaboration with professional divers. The model is assembled from more than 75 parts. It is a powerful watch with a bright technological design solution. Power reserve is shaped like the hatch, and the date aperture looks like window. Dial imitates the dashboard. This watch is designed for extreme situations: massive titanium case, a bracelet made of vulcanized rubber, water resistance 1000 m. Helium valve built into the case, preventing decompression and provides sealing and free rotation of the bezel.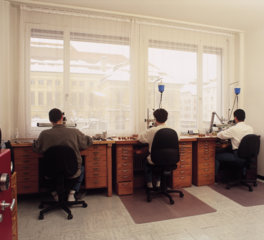 Collection Odyssey (2007)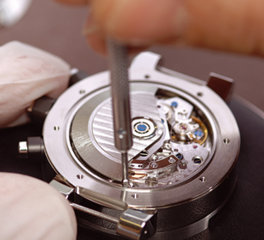 was presented at the Basel Fair. The company uses the theme of space in this line. In creation of the watch are used such materials as titanium, palladium, carbon and ceramic. The watch is equipped with open movement and sophisticated multi-level dial, power reserve is 120 hours.
The company Clerc is positioning itself as a manufacturer of exclusive and limited in their number watches with a wide range of complex and original models. Several of the creatures of Clerc can be under the definition of "world premiere". Certain models are designed and manufactured only on order.
The brand offers fine handmade watches made in accordance with centuries-old traditions and standards of Swiss watch making heritage.
The company Clerc is guided by traditional values and constant search for new solutions that put it in the premium segment of the watch market.