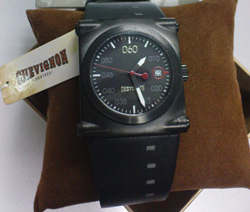 The company Chevignon was created in France by a young Guy Azoulay in 1970. Translated Chevignon essentially means the "American dream".
Today, with a global network of more than 28 countries, the company Chevignon manufactures products, which combines aesthetics and functionality. Azoulay creates vintage images, but at the same time in conjunction with the fashion trends. Basic philosophy of the company: freedom and authenticity - is also reflected in a wristwatch Chevignon.
To buy a watch Chevignon one can from authorized representatives.