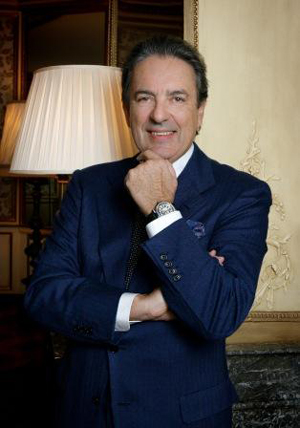 Charriol is a Swiss brand producing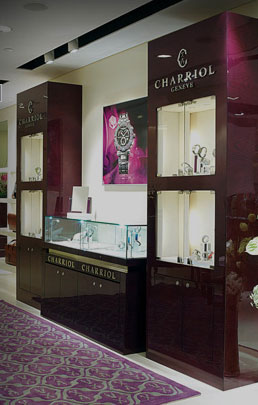 watches and luxury suites. The company was based in Geneva, by French businessman Philippe Charriol in 1983. Designers of the brand have found the perfect balance between traditional classics and modern elements. The great importance is also placed on quality and functionality of products. Philip Charriol inspired by Celtic culture, created in 1983 a collection of Celtic watches (Ñeltic Collection). According to legend, the Celts believed that their strength lies in amulets - twisted massive gold ornaments, which they did not leave in any situations. Philip Charriol first used in the form of gold braiding or wire rope as part of a decorative bangle. This discovery was patented and became the hallmark of the watch brand Charriol. In 2005, a collection Kucha received the prestigious award "Watch of the Year" Suiss Awards.
Charriol produces both male and female watches.
Collection of men's watches: ROTONDE, COLVMBVS, ACTOR (Man XXL Chrono, Man Watch, Actor), ALEXANDRE, IRON. Their cases are made of stainless steel. You can choose models encrusted with diamonds (Model Actor). You can also choose a model of Charriol watches with different form of case: round - Charriol Rotonde, a square-Charriol Actor-Man XXL Chrono, rectangular-Charriol Colvmbvs. The movement of watches Charriol is automatic (Rotonde and Actor XXL Chrono) or quartz (all models). Straps are made of leather, rubber or metal bracelet.
Collection of women's watches Charriol: CELTIC, THE FORCE, ROTONDE, COLVMBVS (Lady Jet Set Chrono), ST. TROPEZ, KUCHA, ALEXANDRE, IRON. Their cases are made of gold (Celtic), steel, inlaid with diamonds (Rotonde, Colvmbvs, Kucha, Actor, Alexandre).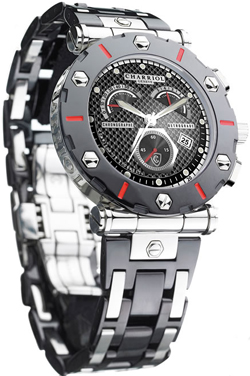 The mechanisms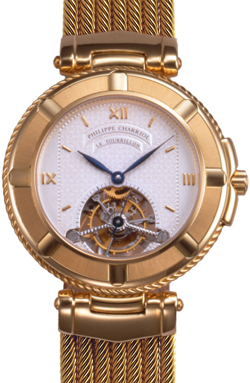 used in women's watches Charriol is automatic chrono (Colvmbvs - Lady Jet Set Chrono, Alexandre) and quartz - all other models. Straps are made of genuine leather. In these watches are also used steel bracelets and cable (twisted) bracelets coated with palladium.
By the 25th anniversary the brand Charriol has released three new models of wristwatches - MD52, a collection has named C25. A series of limited edition are 50 pieces. On the dial there is an inscription "25th anniversary". Functions: hours, minutes, seconds, date and power reserve. The mechanism of a wristwatch Charriol C25 is automatic.
Besides watches, Charriol manufactures premium accessories: jewelry, a collection of pens, leather goods, collection of eyeglasses, perfume line.
In developing of watch models and other products the brand Charriol initially focus on exclusivity, luxury, quality and functionality.
Watches and accessories, produced by the Charriol are distributed through a broad network of retail stores - 71 boutiques of Charriol. Buy watch Charriol one can in watch boutiques and online at http: shop.charriol.com.