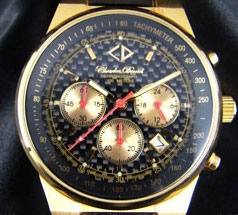 The newly formed American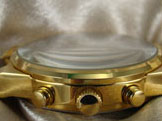 company «Charles David Watch» was founded by Charles David in Kansas City, Kansas, USA.
The company produces sports chronographs based on the high-tech materials. The company provides a two-year warranty for all its products. Design of models is in the classical-sporty style and itis a graceful complement to the individual's image of its owner.
In addition to a memorable appearance, three-button chronograph of the company has complicated by the functions of tachymeter and stopwatch.
The most famous brand's collection is collection Magma. The entire range of models presents men's watches, designed for active sports enthusiasts. In making the case and bracelet are used stainless steel or 18 karat gold, protected by an ionic surface. The dial is made of high quality black carbon. Chronograph is equipped with stopwatch function, which makes it possible to accurately measure the time intervals, and for recording of hour, minutes and seconds using the second dial of polished stainless steel and has a 3-D effect. Chronometer is equipped with the tachymeter which is capable of measuring the speed at certain distances. Date window is located between digital markers 4 and 5. Sapphire glass is covered with a substance that protects it from external damage. Water resistance is up to 100 meters. The watches are designed on the basis of quartz mechanism. Each model included an elegant design in the shape of a rhombus.
The company's products have an average price range. An attractive price and high quality of products put the company «Charles David Watch» forward at the forefront of the global watch industry. Buy watches Charles David Watch is possible in a shop selling jewelry parts, or through a network of dealers, submitted on the official website of the company.