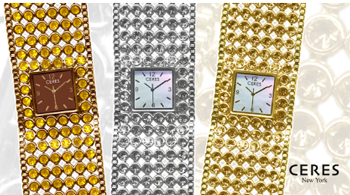 In Manhattan Michelle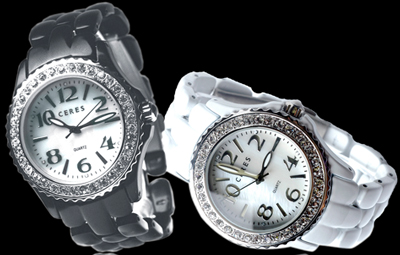 Kim founded the company «Ceres», which is engaged in the production and development of elegant and fashion watches. During her many trips to Europe and Asia, she had a desire to create a women's watch, which should emphasize the femininity and elegance of its owner. And Kim's dreams and desires become reality. Products created by Ceres, surprised with the refinement and luxury appearance. Each watch by Ceres will prove a delicate taste and accentuate a bright personality.
Watch collections: «Ceramics», «Sweethearts», «Classic Men's Collection», «Swiss Collection», «Sporty Chic», «Elegante», «Prêt-à-Porter», «Vivre», «Luxe».
Cases of different sizes and shapes are made of ceramic or stainless steel, bracelets are made of steel and straps are made of leather. Water-resistance of watches is up to 30 meters. There are models, which cases and dials are decorated with crystals Swarovski. The brand makes chronographs and watches with guilloche dials. There are models with bracelets which are completely covered with Crystals Swarovski ("Luxe" collection). Watches are equipped with Japanese or Swiss quartz movement.
The company Ceres also produces men's watch in classic and sporty stiles (the collection of "Classic Men's Collection", "Sporty Chic").
Buy watches Ceres available from authorized dealers of the company.