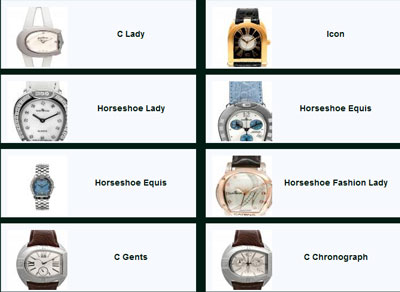 Aged by time, the standards of Swiss quality in watch making are translated into the watches Catena. The company was founded by Willy Lebet in La Chaux-de-Fonds in 1947.
At the beginning of the century the company Catena has developed a new line of watches with the original design that attracted the attention of all connoisseurs of Swiss quality and unusual design. Two years ago, the brand Catena became a part of the holding «Ambre Group» and expanded its lineup.
The wristwatches Catena are made in the shape of a horseshoe. They are not classic watches; they are fashion original items for the fans of unusual accessories. A horseshoe is the main character of this watch brand, which is used in male and female watches.
The company Catena offers men quartz chronographs, equipped with a mechanism ETA. The company uses for its dial sapphire and mineral glass.
From 16-21 January 2011 Catena successfully participated in the exhibition «Geneva Time Exhibition» in «International Conference Center of Geneva», located in the heart of Geneva and close to the UN and numerous international organizations. The company presented its new models.