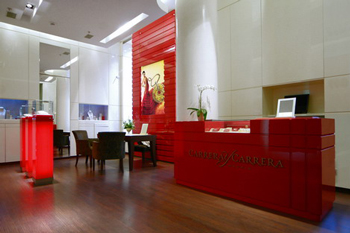 «Carrera y Carrera»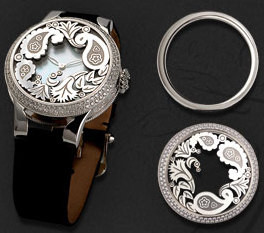 - luxury in the world of watches.
«Carrera y Carrera» is a Spanish jewelry house, which was established in 1885 in Madrid. Its founder was Jose Esteban Carrera, whose activity was continued by his nephews Carrera - Manuel and Juan Jose.
Masterpieces of the brand quickly became famous.
Today, in addition to fine jewelry the company also produces elegant watches, made of gold and incrusted with diamonds.
"Tempus Fuqyt" is the first collection of women's watches, which the company released in 2003. It combines the rigor and femininity. The collection includes models with case made of steel, as well as watches with rectangular dials with diamonds, with straps of exotic animals' leather. "Time flies, regardless of status and wealth holders" - that is what the idea behind this collection.
In 2004 the company released the following collection – "Avalon", which included watches with round-dials. They are made with exquisite brevity. Stylized hour markers on the bezel are made in the form of equally spaced grooves with a diamond on the end.
In the same year was presented the first collection of men's watches – "Tempus Fuqyt Chrono", which are characterized by high technical complexity. An elite luxury of the models is in emphatic simplicity.
In 2006, the brand has released a new model.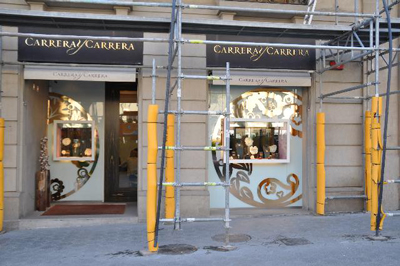 Luxury watch «Bambu» and «Peacock» designed by Natalie Getzh became a hit of the year. The watches are decorated with black and white diamonds, equipped with sapphire glass with anti-reflective coating and with stingray leather straps.
In 2007 the company released a line of jewelry watches - «Pulso Jewelry Watches». The line was created in the Baroque style. Designers have developed a model with a removable bezel. Watches are made of white and yellow gold with alligator strap. Decorative ornate details of models «Aqua» have a filigree pattern of Turkish cucumber and shimmering diamond butterfly attached to watch «Baile de Mariposas» ease and grace.
One model of «Carrera y Carrera» has no parallel in the watch making industry. The unique design of each model is thought through to the smallest detail. There are no a standard part in the brand's watches. Only the highest quality materials used to manufacture these unique watches and diamonds that adorn and highlight the elegance, sophistication, faceted by hand. In addition, all watches of this brand are equipped with Swiss exact mechanism.
Excellence of production «Carrera y Carrera» is in perfect technical execution.
Buy watches «Carrera y Carrera» can in many countries around the world, and you can order them online.