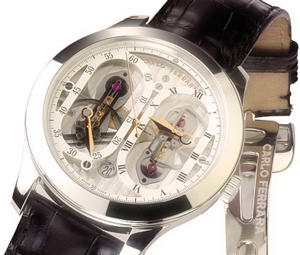 The popularity to Italian artist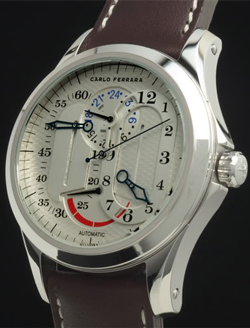 Carlo Ferrara was brought by his watch, which had an exclusive look. The watchmaker Carlo learned watch making from his father, who was also a watchmaker.
In 1991 Ferarra became widely use hour hands to display the time, which moved along a complex trajectory, combining circular and translational motion. The mechanism of CF100, which embodied such a complex movement, was created based on ETA 2892-A2.
The Italian watch Regulator by Carlo Ferrara is an innovative design and challenge standards. They are designed for strong, successful and courageous people. Models have a double dials. Minute and hour hands in these watches, with no intersection point, move along different trajectories as down or up. The second hand is located in the middle of the dial. Case is made of stainless steel or 18 carat gold and in classic style. The case can be covered with transparent sapphire glass or it can be closed.
The company Carlo Ferrara produces Italian watches with cases in various ways - with a magnifying glass or a calendar. The Geneva Seal is applied on the mechanism.
The watches Carlo Ferrara have impeccable quality, unique design and exclusive look. Assembling of these watches is made with using high technology, which gives them durability and a special accuracy. All instruments are under strict quality control at all stages of technological process. The work of all movements is always checked and adjusted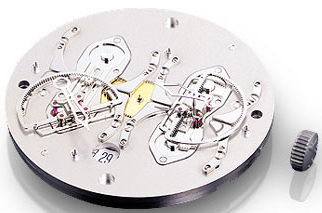 manually using a microscope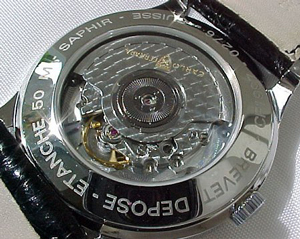 that helps to achieve maximum technical accuracy of the highest result of manual assembly. Warranty certificate confirms the accuracy of the watches Carlo Ferrara.
As the watches Carlo Ferrara are handmade, the company annually produces just 1,500 copies. However, Sergio Ferarra, a son of Carlo, aims to increase the number of manufacturing products.
The company has mastered the markets of USA, Japan, Italy, Saudi Arabia, Emirates and Hong Kong.
Buy wristwatches Carlo Ferrara can be at authorized dealers all over the world.