Cadence Watch Company produces exclusive models of watches and does not have any analogues in the World. The brand was founded in Philadelphia. This might be one of few companies which releases very unusual models at a world trade, each of which is absolutely different.
A small collection of watches made by Cadence includes as analogue and digital models. This is because different specialists work at models' design and construction. Each designer and watch-maker makes all their fantasies come true in practice. There should be mentioned that it also has its strong point. It is very respectable to have different watches in once collections. Not every company can flatter by a huge variety of styles. It is true that different styles are applied by different designers and they do not make any influence on the choice of the materials which need for Cadence watch producing.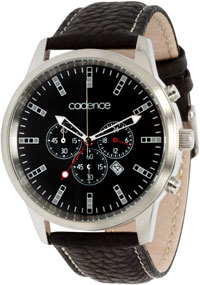 Original watches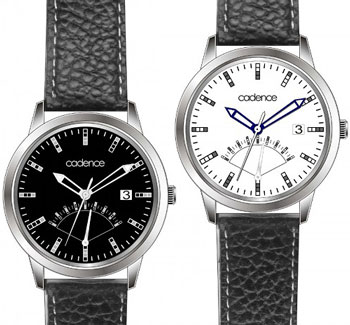 Cadence are presented by the following series: 4-bit, Wrist Rocket, Collective, Sasu.
4-bit is a collection which is full of original models. Their design and functions are too than perfect. At a first glance there is no unusual in this watch, but having look at the model properly it is possible to notice that some difficulties occur when the time should be read. Hour marks are placed at the dial and depict 4-bit time. Speaking about the design, it is should be mentioned that all the models of this series are made in classic style and decorated with genuine leather straps or metal bracelets. The collection includes ordinary models, chronographs and interior clocks made of jewellery alloy of stainless steel (316L). the dials are made of yellow copper. The models of this series are supplied with automatic rewind, all the other models are supplied with quartz movement Miyota.
Wrist Rocket – is the next collection, which presents watch models of a small size. All the wotches in this collection are supplied with LCD-displays where the time is shown. Wrist Rocket watches are water resistant (up to 5 ATM), also they are supplied with the following functions: hours, date, stopwatch, timer, alarm.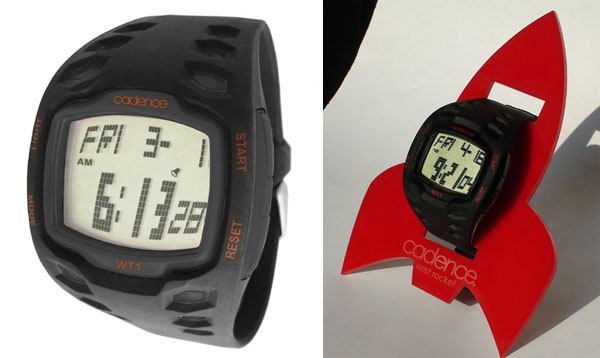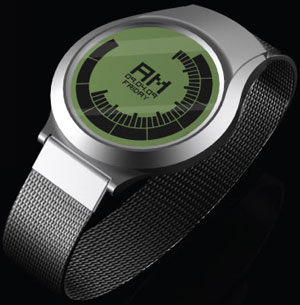 Collective – is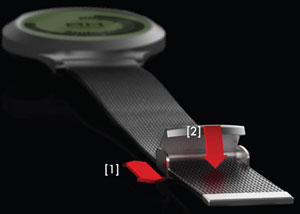 a collection of very creative watches. The models are processed by a designer – Josh Chadwick from Philadelphia. This collection compounds analogue and digital watches. According to the idea of the designer, "People are the best inspiration for a designer. It is should be remembered that designers do not process only objects). Thanks to our huge experience, which make real influence on our work. We can create models which can cause different emotions and reactions. The passion to design is reflected in different spheres – industry and graphics."
according to Chadwick's idea, can be mentioned by those costumers who like digital and analogue watches – both.
Collective watches are half digital and half analogue. However instead of hands, this models have progress-bar as in a stopwatch. For day-time or night-time detection the letters "AM" and "PM" are placed. On the dial the date and the current day of the week are also depicted. The case of these models are aluminum. All the watches of this collection have metal bracelets and folding buckles which let to adjust the bracelet size according to the size of any wrist.
Sasu collection presents the models processed by famous Japanese watchmaker Sasu, who's works compound nature and town motifs. The dials of these models have flower decoration in the dials. The images are made in a very unusual way. Different colors are applied in four layers – one by one, the top layer of the flower is separated fron the dial and turning round every second. Squared cases are made of gilded or stainless steel, the dials, except flower decoration have Swarovski incrustation. Elegant watches of this series are water-resistant (up to 50 meters) and are supplied with quartz movement.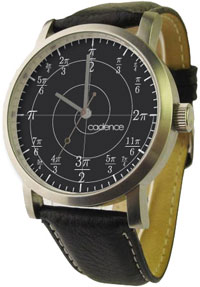 Not long ago Cadence company issued one more exclusive model – Radian Watch. A novelty was created by designer Chris Thompson, who brought some happiness to mathematics having presented his project of the watch. The case is that traditional numerals are substituted by mathematical formulas. As the designer says :"The watch combines an angular circumference with 12-hour dial. So, because everyone knows how to detect the time, why not to neglect ordinary hour marks?!" So, Chris Thompson placed "0" in the place of "3", which is more convenient for grade measure counting in the radians counterclockwise. In every hour mark he placed suitable true angle in radians.
Mathematical formulas are depicted in the background of Archimedean spiral. In the middle of the dial a hand of seconds and minute hand are fixed. It is should be mentioned that minute hand is absolutely different from the hand of seconds.
Cadence watches are too than original and shows the power of designers' creativity. Cadencewatch can become a very good exemplar in any watch-collection. Cadence wonderful watch models can be bought at the official web-page.