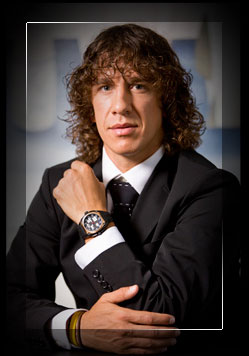 Carles Puyol – is a Spanish football player a fullback of "Barcelona" football team. In 2008 he started to produce watches. Carles Puyol was born in 1978 in Pobla de Segur, Spain.
Carles Puyol got many nicknames "Lion Heart", "Supermen", "Cap". He is known for his aggressive work of a fullback and he is considered to be a very important football player of "Barcelona" football team. Carles Puyol won a Cup of UEFA Champion League, he became the holder of Champion Cup being a member of "Barcelona" team. Carles Puyol has a medal of Olympic games in Sidney 2000, he became a Champion of Europe in 2008 and World champion in 2010.
The name of watch company was chosen not occasionally, because Carles football uniform has index number "five", that is why Carles Puyol 5 (CP5) is called in this way. Shortened name "CP5" is placed in the dials of all the watch models.
CP5 watch are released in a number of collections made of different materials: stainless steel or aluminum – polished, atlas design, satin design, and also of poly-colour design.
There are also models which are made of rose gold. Starting price of CP5 watch is €100 the final price is €1400. Depending on the material which was used for movement and case making.
All the watch models are made in sporty design. Among these models there are different models of watch: analogue and digital watches – both. All the collections include a very rich colour assortment which let any person (sportsmen or just ordinary man) choose any model according to one's taste.
CP5 watch are released in the following collections: CP5 Sport, CP5 Sport Special Edition, CP5 Space, Cp5 macchina del tempo.
CP5 Sport collection includes models which cases are round, made of aluminum. Case sizes are usually 47.70x48,60mm. Crowns are also made of aluminum, back side of the watch is made of stainless steel. Dials are designed in different colours, supplied with Arabian figures: "2", "5", "8" and "10", three hands, brand's logo at the position of "12 o'clock". Dials are protected with mineral crystals. CP5 watches are water-resistant (up to 10bar). Models are supplied with polyurethane straps and quartz movements Cal.2115 which have functions of hours and minutes, central hand of seconds, date indicator at the position of "3 o'clock".
CP5 Sport Special Edition is going to be the next collection. There will be released watches of different colours. These watches will be released in limited edition.
Watches CP5 Sport Special Edition collection have the same characteristics as the models of previous collections. However figure "5" in the dial gas a bit different design, namely the colours of Argentina, Italy, Spain, Mexico, Portugal and Brazil flags. There also should be mentioned that these sporty watch were presented by Carles Puyol to his team-mates when they won World Championship Cup in 2010.
CP5 Space is a collection which includes watches made in different colours, which cases are aluminum, their sizes are 47,70 x 48,60mm. Watches released in CP5 Space collection are supplied with straps made of polyurethane. Time indication is displayed in the LED-display in Arabic figures. Displays are protected with mineral crystals. Models are also supplied with quartz movement.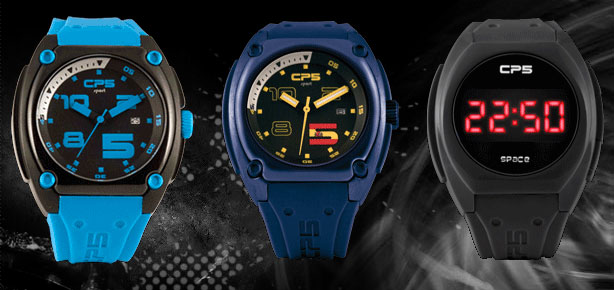 CP5 macchina del tempo is watch collection which includes 4 models made of IP coated stainless steel 316L. Bezels are made of 18carat rose gold. CP5 watch company character is reflected in the design of the dials. The case is Arabic hour numeration: "2", "5", "8" and "10". all the models of this collection are supplied with inside automatic movement, which has a ring which has indexes which denote minutes. Dials are protected by sapphire crystals anti-reflective coated. Models are supplied with black real rubber straps. Back lids are made of stainless steel, fixed to the case by screws. Models are water-resistant (up to 5bar).
Watches of CP5 macchina del tempo collection are supplied with a Swiss automatic movement with functions of hours, minutes, central hand of seconds and date indicator.
Carles Puyo watch are usually bought by sportsmen and people, who live fast and want to attain success.