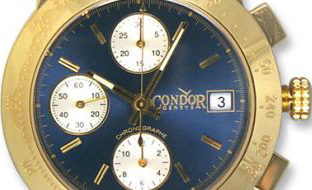 Back in 1903 in the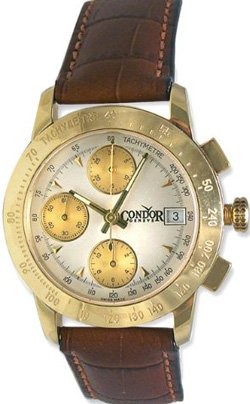 northwestern part of Switzerland a small family business was founded - a workshop of manufacturing watches CONDOR. In the late of 19th - century during the watch boom, when almost everyone made the watches the company CONDOR was not successful. That is why young businessmen of the company had to suspend their business and travel to distant lands to gain experience in the trade area. Soon after the watch production was resumed, manufacturing quality products at reasonable prices. By 1925, the company CONDOR has achieved the increase of sales in the UK, and in 1967 opened own factory in La Chaux-de-Fonds.
The formation of the company had many difficulties: First and Second World Wars, some revolutionary events and a long post-war crisis. But even these difficulties were not able to get the family to leave their business and the company CONDOR could adapt to the changes and overcome difficulties. Swiss brand was competitive in many countries around the world and was leaders in such large countries as UK, USA, South Africa, Singapore, Malaysia, Australia and New Zealand. First of all the increased popularity of brand can be explained by the affordable prices and quality and modern goods.
However, the company wasn't able to reorient its production in time during the quartz boom of 70th's, which shook the entire watch industry. Production was almost stopped, and the factory was sold. However, the London branch of CONDOR continued functioning. In 1987, the management of the company was taken over by the fourth generation, the young businessman Robert. After lengthy
Today the company CONDOR keeps its historic principle of "high quality watches at affordable prices" and follows his motto: "attention to detail". Collections of this brand combine the best technologies and materials for finish with the latest high-quality quartz movement.
Almost all models of the brand are presented with cases of their own design, which are made of gold and made at jewelry factories of other countries. Models are equipped with the well - known Swiss mechanisms. All watches CONDOR have seal Swiss made.