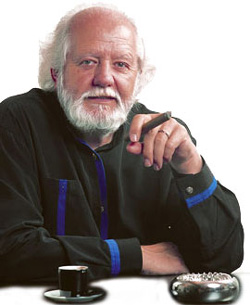 The name of Georg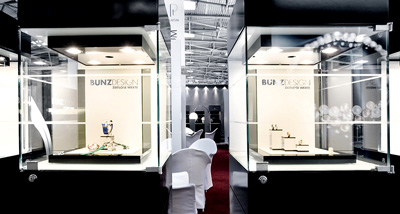 Bunz became as a synonym of a jeweller who uses unusual moulds for once products making, gems of a special cut and of a big size and extraordinary fastenings for gems.
So, «Octopus Ring» is a ring created in 1981 incrusted with a diamond octahedron cuted and became unique thanks to this construction.
The history of Bunz company starts from 1975 when in Pforzheim a young designer, looking for some new jewelery ideas had found the new way of incrustation.
For the models making Bunz combines very hard to process materials: platina and diamond, harmoniously connected with gold.
In 1987 in a jeweler Bunz collection a new watch series appeared. The sensation became a stunning sapphire crystal model making with an incrusted diamond in the middle.
The gem covered the axes of hands, making a kind of magic time movement. The collection was unique by strict geometrical lines: basically there were round and squared watches. Bunz trade mark became a special unnoticeable fastening for gems and delicate bezel.
In 1993 «Moontime» collection appeared – there were not only beautiful jewelery, but unique watch movements as well.
Bunz Montres watch-makers created the most exact and the smallest epicyclic movement in the world.
This miniature placed around your hand is an indicator of Luna phases, where the full Moon with light and dark sides makes a turn around the dial during one cycle. This watch model creating made come true wishes of many astronomers and watch-makers.
In this collection the connoisseur of watch-art could find a wonderful combination of luxury od gems and unique watch-movement.
In 1994 an international watch-museum in La Chaux-de-Fonds in Switzerland and in German museum in Munich included «Moontime» watch in their collections. If you like strict male accessorizes «Moontime» collection is right for you. The strap is made of crocodile genuine leather, the case is made of gold which is an element of sophisticated individuality.
«Diamond Time» is a collection recognized by the diamond and the dial. The case is rectangular and made of stainless steel, the strap is made of genuine leather. White diamond makes this model a jewelery of a high-class.

The diamond of a big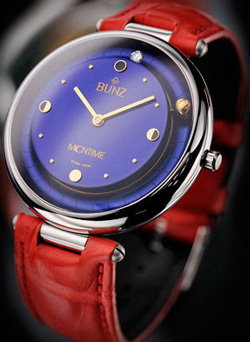 case models is in the middle of the dial and covers the the axis of hands as models of the first collection has.
«Ergo» collection is different from all other models by its functionality and variety of colors. They are very convenient for travels because of a second time zone indicator and the owner of this watch can easily know the time being in any country.
Female watches models are decorated with diamonds of different colors which are suitable the dial color.
The base of the latest Bunz watches of «Design-Time» series is that they are faithful to the style of Bunz brand and differentiates only by decoration. A wide bezel with colorful laid on marks framing the case made of platinum and gold.
All of us live in present and follow the time flowing. However each part of our life is experience uniquely that is why time-perception reflects the tension of stars eternal moving. Irreproachable design of Bunz watch is developed for beautiful materials as platinum, gold, ceramics, steel, genuine leather combining with high technologies of our time. High-standard made Bunz watches respond to all demands and Swiss traditions of horology. They represent high accuracy and luxury design.