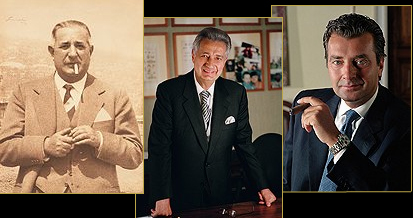 Buccellati is an Italian company well-known for its incomparable jewellery and wristwatches for a long time. It was founded in 1919. All began when Mario Buccellati, a jeweller, opened a small shop in Milan. Mario was from a family of jewellers and in 1913 he began studying handicraft of treatment of precious metals and cutting of stones. And six years later he started producing original and expensive jewellery under the Buccellati brand.
One cannot but notice and appreciate these items because they feature original design and shining of precious stones. For a short period of time the company became popular and its products were worn by people of different ages. After several years of the foundation the company opened its shops in Rome, Florence and then all over Europe. In the middle of the 19th century the company won the world recognition and opened its shops in New-York.
It is not surprising that the Buccellati company became popular and recognized as products of this company combine the best traditions of jewellery classics and incomparable Italian design being characteristic only for this brand and that can be called as the distinctive feature and style of Buccellati products.
After Mario's death his sons run the company. In 1969 Gianmaria Buccellati headed the company. He was a talented designer who developed jewellery style of this brand. Together with his son Andrea started actively promoting the brand's production in the world market. As a result of their work, shops appeared in Milan, Venice, Paris, New-York, Tokyo and Hong Kong.
Nowadays the Buccellati company is famous not only for its original jewellery but also incomparable wristwatches. Buccellati watches are expensive jewellery items which created to add an owner's image. They are not equipped with modern technological complications and different functions. Luxurious jewellery watches are presented in the following collections: Eliochron, Agalmachron, Venuschron, Audachron, Arischron, Siriochron and Androchron. Each collection includes original models which you cannot pass by. Eliochron consists of watches with round cases made of yellow, rose and white 18 carat gold. Cases, dials and bracelets are decorated with brilliants giving watches an elegant look. Watches are ornamented in the "Venetian lace" style.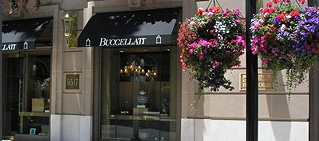 Agalmachron comprises models with square and rectangular cases made of 18 carat white or rose gold and their combination. Watches of Venuschron repeat design of models from the previous collection but their cases and bracelets are decorated with precious stones. Dials and bracelets are ornamented with various traceries giving watches an elegant look.
Audachron has models performed in some other style as compared with ones of the previous collections. But they have leather straps of different colours. Models of Siriochron also have these straps but their cases are in a form of a flower.
Arischron includes models of classical style. These elegant models are bracelet watches that add an owner's stylish image. Androchron has models that cannot be almost found in other collections. Watches have round cases and leather straps. Dials are marked with the Roman numerals and have three hands. The date aperture is located at 3 o'clock position.
Luxurious and exquisite appearance of Buccellati timepieces will leave cold no one. They will be an evidence of the subtlest taste of vivid individuality of the owner.