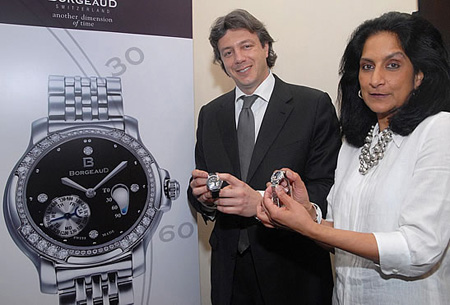 BorgeauD is a Swiss watch company established in Gland city. Its founders are Marc Aeschbacher and Chitra Subramaniam-Duella. Mr Aeschbacher is also a Chief Executive Officer and collaborates with a well-known watch industry consultant Hugues-Olivier Bores to design the brand's promotion conception together.
BorgeauD watches combine achievements of the Swiss traditional watch craftsmanship and three thousand year experience of Indian astrological and astronomic observations.
Every day, during half an hour the Rahu Kaal (rahu from Sanskrit means a period) lasts or the Rahu Kalam depending on nature cycles of the planet. During the Rahu Kaal, according to the Indian astrological calendar, Panchang, the period comes which is unfavourable to make serious deals. As astrologers assert, astral dark forces rule on the Earth. Indian businessmen and millions of ordinary people do not take serious decisions without checking this calendar. It has to stop, take a rest and put thoughts in order.
In accordance with the Panchang calendar, the unfavourable periods are Monday (devoted to the Moon) from 7.30 to 9.00 a.m., Saturday (Saturn) – 9.00-10.30 a.m., Friday (Venus) – 10.30-12.00 a.m., Wednesday (Mercury) – 12.00 a.m.-1.30 p.m., Thursday (Jupiter) – 1.30 p.m.-3.00 p.m., Tuesday (Mars) – 3.00 p.m.-4.30 p.m., Sunday (Sun) – 4.30 p.m.-6.00 p.m.
The Borgeaud watch company together with Indian astrologers has created the watch with the Rahu period indicator. It depends on a week day. Such watches are launched in a limited edition.
The BorgeuD La Collection Gravitas watch collection includes watches with classical cases encrusted with brilliants and outfitted with ETA movements complicated with the Rahu period indicator. On the first part of the dial this indicator is located. It is in a form of a window which darkens little by little during 90 minutes and then, after the ending of an unfarouvable period, lightens. On the left side the small dial with the hand is. One end of the hand shows a week day, another – time of the Rahu period according to the week day. This collection includes wristwatches both for men and women.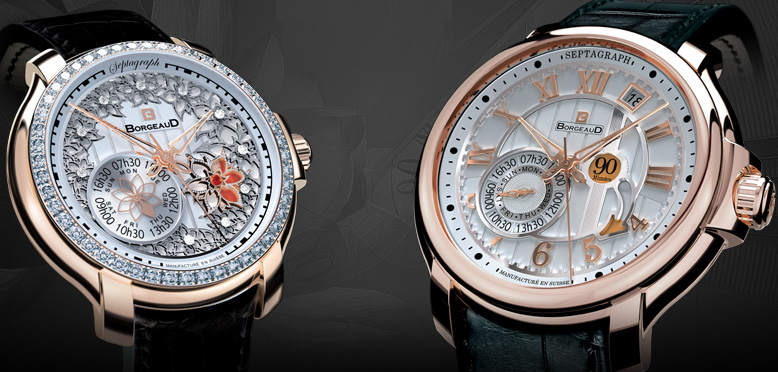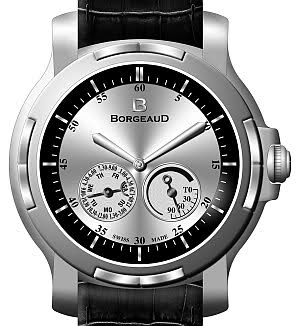 On November, 2010 in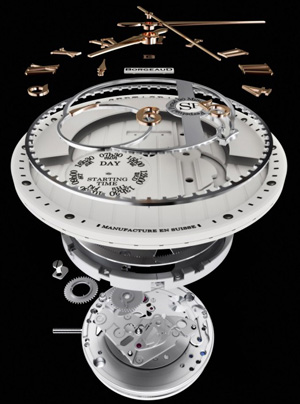 Mumbai, in the Taj Mahal Palace & Tower the model of the BorgeauD Septagraph ÒÌ watch. The Rahu indicator is situated between 3 and 5 o'clock positions, and between 7 and 8 – the small dial. These self winding watches are equipped with the BRG11501 calibre movement complicated with the Rahu indicator. Cases of a 46 mm diameter and a 12,4 mm thickness are made of white and rose gold of 18 carat. Watches have a 42 hour power-reserve and water-resistant to 50 metres. Straps are of alligator leather. The Rahu indicator location between 7 and 8 is not chosen by chance. These numerals in Hinduism and Buddhism have symbolistic sense: 7 means an end of the supreme power, perfection and priesthood of rest, and 8 means a symbol of eternity, prosperity and success.
After the first premiere BorgeauD timepieces immediately aroused great interest in the environment of connoisseur of the Swiss watch art. BorgeauD wristwatches will optimally help to make an everyday schedule according to the Indian astrological calendar.