Today everyone can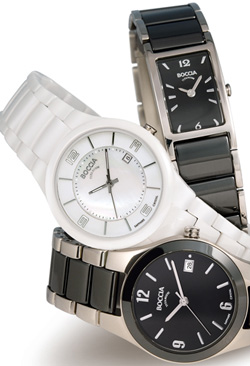 purchase original and exclusive Swiss watches and jewellery as well as German products. The German watch companies were always rather famous, they were developing fast before and after the World War II, despite the fact, that most of them closed down the production during the War. It is amazing, how quickly the persistent German entrepreneurs have managed to re-establish their business, giving "the second wind" to their manufactories. At the present day, these companies are still popular all over the world.
It's generally known, that the German producers of jewellery and wrist watches, like the Swiss ones, pay a great attention to the high quality materials and exclusive design of their models. The German quality is always associated with rationalism, irreproachable design and the desire for perfection. These facts are reflected in every German product, whether a piece of jewellery or a wrist watch. It's worth mentioning, that the German movements, like the Swiss calibers, are the best examples of reliability, accuracy and rationality. There is one more important fact – this is the German design, first of all it is characterized by its practicalness. You will never find any superfluous elements and defects in a German product. In other words, there are no elements in the design, which are used just for the decorative purpose or for no particular reason.
Boccia Titanium is one of these watch brands. It is the producer of very different, high quality and original watches, sold at rather affordable prices. These products have recently established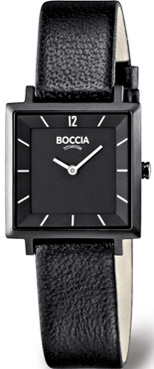 themselves as a leading choice in the category of "the best-selling products". A recipe for Boccia company's success is not just the strict and elegant design of products, but also the precise movements and the durability of wrist watches. The watches are very comfortable to wear, as they are produced from a high class material, particularly from titanium. Due to titanium, the products receive the original image, this metal is temperature resistant, it doesn't cause any allergic response and discomfort. Titanium doesn't belong to the precious metals, however it is quarried from the natural compounds with the help of special technologies and labour-intensive processes of production. Titanium is light but rather a solid material, that is often used in the aircraft industry and space industry. In these latter days, it is also used for wrist watches production, due to its extremely good properties.
Boccia is one of the companies, which use titanium for their watch production. The pure titanium is of silver color, there are no scratches or evidences of damage on the surface. While wearing Boccia watches, made of titanium, you always feel well, the watch gives you lasting pleasure. Titanium is the corrosion-resistant material, because it doesn't react with acids and alkalies. The titanium watch case can also be gold-plated. While developing the watches, Boccia company doesn't use nickel, it guaranties the high quality wearing of the products. Boccia Titanium company has released men's watch collections as well as models for ladies: Trend, Ceramic, Style, Dress, Superslim, Sport, Outside. The assortment of the models is very wide. The titanium watch cases are of different shapes and colours. The collections also include chronographs with the stop-watch, which are very popular among sportsmen. The connoisseurs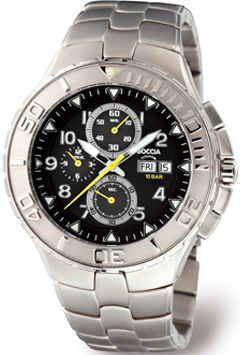 of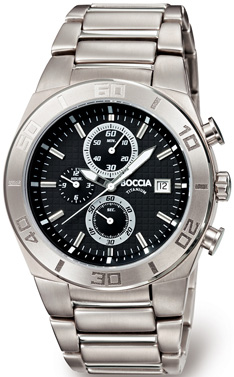 classical style can also choose a watch to his/her liking. The elegant watches by Boccia Titanium feature two or three hands and a date aperture. There are also some models, complicated with brilliant tourbillons. The watches optionally come with leather straps of different colours or titanium bracelets. For the fair sex the company has developed wonderful watches, decorated with nice elements. These are the elegant models with white dials and titanium bracelets or the refined models with round, square or oval cases and multi-coloured enamel dials, decorated with gold inserts.
The designers from Boccia company pay a great attention to the development of the individual style for every wrist watch. The models by the German Boccia company combine grace, elegance and splendour, that presents either in men's watches or women's models.
Boccia Titanium watches are mainly preferred by sportsmen and the creative professionals, who regard these models not just as the time measuring machines but stylish accessories, complementing the person's image.
You can buy Boccia Titanium watches from the official dealers or in the boutiques in many countries of the world.