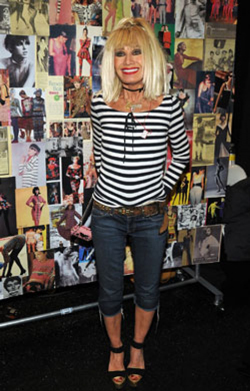 From the moment of their occurrence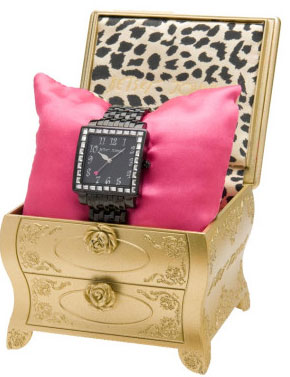 watches were assigned a specific function: to monitor the time and streamline the rhythm of life. The initial function "measure time" oddly enough, over time, retreated to the sidelines and today a watch - an indicator of the person's status, a measure of his taste and approach to "design" of his image. With the passage of time, this accessory has become much more functional and compact. Today, watches are often used as a missing bar in appearance, as an ornament. As the latter it could be better suited the watches Betsey Johnson, appearing on the watch market only recently, although the history of the brand dates back to 1978
The founder of the brand is an American designer Betsey Johnson. Her design capacity, she began to implement in the 60s of the 20th century. After working for more than 10 years as a designer for a variety of fashion houses, in 1978 she decided to launch her own line of clothing. All creations Betsey Johnson are outrageous, extravagant, as the creator of the brand herself. Her models are bright and imaginative. Tangible and creative ideas of the designer can be described in one word - Glamour. Johnson has a different color, which has long been closely associated with her name. It's pink, without of which no costs any collection of this brand. And the watches, of course, are no exception.
The production of watch collections Betsey Johnson is designed by the company Haskell Jewels, with which Betsey Johnson has been cooperating for several years. Haskell Jewels is also involved in the production of collections of jewelry and accessories of the brand.
Wrist watches of this brand are made in the original mix of the colorful eclecticism. Some models of women's watches are decorated with crystals Swarovski, which gives them a unique shine and chic.
The watch - jewelry of the brand can perfectly complement your image.
A collection of women's wrist watches Gold Blue will please many stylish women. Accessories from Betsy are very functional and stylish at the same time. A bracelet is in stainless steel with blue crystal, blue dial with Arabic numerals, the mechanism is quartz.
The collection "Jungle Girl" is notable for its extraordinary. The watch case is made in the shape of the heart, a bracelet and case is made of stainless steel, the mechanism is quartz.
Another model, made in a black bow, suits ideally for an evening dress, and cover of the watch, performed as a mirror, will serve a good service the females, as a notorious women of fashion or elegant business ladies, help them out if necessary, adjusting the makeup.
Many celebrities give their preference to this watch brand.