Benrus is an American watch company, which was founded in New york in 1921 by three brothers-immigrants – Oskar, Benjamin and Ralph Lazrus. Benrus company got its name from the first letters of brothers' names.
As it is known, the first watches appeared in 1900. they were made in manufactures which produced jewellery and pocket watches. A new type of watch became very popular all over the World. In the beginning of 20-s of the XX century total production of watches reduced. In this very time Lazrus brothers decided to start up a company which could make watches. Ralph Lazrus – the younger brother became the president, Oskar – the eldest, who was a lawyer was busy with finance, so and Benjamin was responsible for different industrial tasks.
Despite the fact that the headquarters of the company was in Manhattan, the main volume of production created by Benrus company was made in Switzerland. In La Chaux-de-Fonds Benrus had a manufacture, where were its movements made all. In the end of 50-s and the beginning of 60-s Benrus o[ened manufactures in France and Saint-Thomas in Virginia Isles.
During the II World War appeared to be the time if a huge growth for Bernus company which was busy with military watches production as many other watch producers.
Moreover Bernus signed a lot of secret contracts this time. There were agreements for different military tools production, that were need for different purpose. At the same time, the company continued to make watches which contain Swiss made components, created for civils.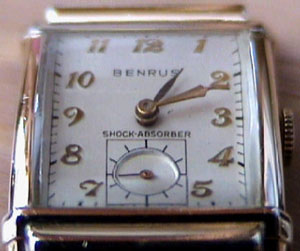 After the war in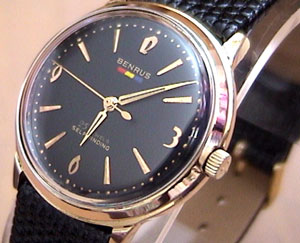 Bernus company other members of Bernus family continued to work. They were: Jay Kay Lazrus and Julian Lazrus, who were Oskar's sons. Later Julian became the president of Bernus company, Located in Waterberry. Jay Kay became an executive director and vice-resident.
In 40-s Bernus brand started to enlarge the range of their production, adding new elements of design. Bernus designers started to process new original models, charming and beautiful, that amaze by their appearance.
The price of Bernus watch was too than affordable. The company produced watches supplied with Swiss and German movements.
This time Bernus released such models as «Embraceable», «Citation», «Dial-o-Rama», which are in collections of most collectors nowadays.
To the beginning of 50-s Bernus outrun Hamilton by watch production in order to become the 3rd hugest company in the USA. Bulova and Elgin were the first, who propose their production in affordable price. However Hamilton brand was famous for its high-quality watches supplied with manufacture movements. Moreover, Hamilton company imported Swiss made movements and sent it by the name of Illinois.
In 1952 US Tariff Commission proposed to blow up the import tariffs of Swiss made movements.
This fact was destroying for Bernus brand, which made its models only on Swiss made movements. Starting from 1952, Bernus company was buying Hamilton shares. In 1953, Bernus bought 24% of Hamilton shares. It also should be mentioned that for Bernus it was rather huge deal. It has total voting authority even at president voting. However Hamilton company put the law on Bernus, stating that it brakes the laws, trying to control Hamilton totally.
In 1953 Hamilton brand won the law. Gradually all Benrus manufactures were closed and in 1960 Ralph Lazrus died. In 1967 Benrus was sold to Victor Kiam who worked on Remington Razors company. Since then it started to produce military watches. In the middle of 70-s Benrus Incorporated was busy with different goods production till in 1977 Bernus was bankrupted.
Bernus brand was sold and became the property of Hapden which belonged to Fantasy Diamonds. Hapden also tried to revive Benrus by the name Hampden/Fantasy, but the idea was not served to live for a long lime. The idea of Hampden/Fantasy soon faded away.
Wonderful gilded stainless steel Benrus watches were designed and made perfectly. They became real pieces of art in any collection of collectors.