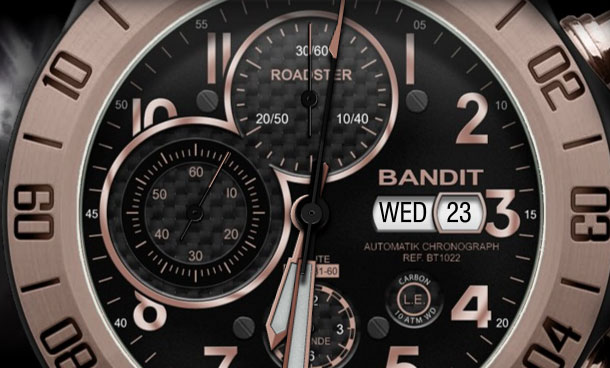 Classic and at the same time modern the watches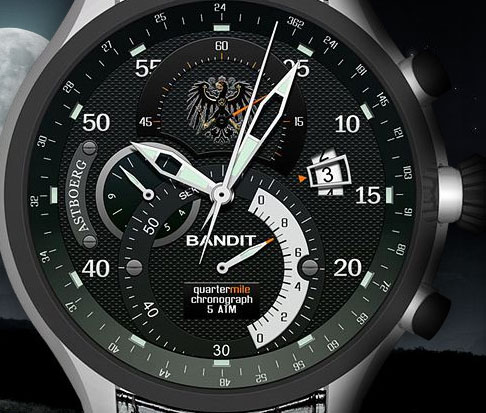 "Bandit" is the embodiment of German watchmaking, the wristwatch, which will underline your individuality. These watches are designed for a new generation of men living in a dynamic life and self-confident in their actions.
The wristwatches «Bandit» is a kind of interpretation of vintage style in the 30s military models. The designers managed to combine the power of their movements and modern dynamic elegance of the case.
Ten years of work and experience eventually gave its result: a brilliant and worthy accessory for men's wrist, which now the company "Bandit" offers.
The development of the timepieces "Bandit" became a peculiar type of revolution in the field of German watchmaking. The company's founder, Mr. Zafer Yugitoglu introduced with the mark "Bandit" to the world the first-class superior technology of watchmaking, the German classic design, the embodiment of individualism combined with striking contemporary design notes in the case. For all that, the company «Bandit» has established its place in the watch market with new and high-end chronographs, with the presence of tritium gas in automated mechanisms.
The fans of the watch brand "Bandit" are attracted by the synthesis of original and courageous style and high technology: the elite chronograph "Bandit" as if talks about the strength and dignity of its owner.
The model range from "Bandit" has the following lines: "Flightmaster", "Estoril", "Arsenal-M", "Arsenal-L", "Korsar", "Portland gold", "Portland".
The collection "Portland gold" is made of stainless steel in a sporting spirit, and the rotating 12-angular bezel gives the model a kind of lightness in design.
The watch mechanism "Estoril" – "Boarduhren" is an automatic chronograph. The back cover of the watch is transparent, allowing you to observe the work of a perfect mechanism. This unique model is named after the famous town of Estoril in Portugal, where the competitions in motocross were held.