Recognized luminary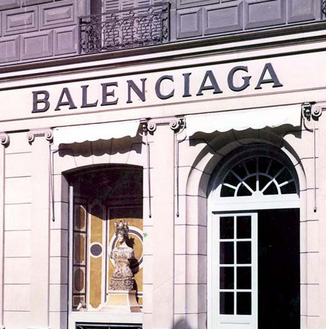 of fashion Cristobal Balenciaga founded the same name brand in 20-s of last past century. In 17 years collections of Spanish designer were presented in capital of world fashion – Paris, on famous avenue George – V. In the same year Balenciaga, crowned with title "the king of couture", opened in Paris his House of Fashion.
Creative ideas of great designer influenced on fashion development of 20-s century. Balenciaga became the teacher of such great couture as Hubert Givenchy, Andre Courreges, Emanuel Ungaro, Oscar de la Renta, etc.
Fashion House Balenciaga got leading positions in fashion industry till 1972. After the death of great designer the fame of the brand became to fade away, and to the beginning of 90-s was forgotten. It continued till 1997, when the head of design department was appointed young and promising French designer Nicola Gescier. In several years he backed the fame of the brand. Columnists of fashion called him "the most original designer of his generation".
Nowadays, Balenciaga is one of the famous brands, which "create" fashion, presented encoded "prophecy" for all fashion industry. Great experimenter Gescier create fashion, managed to conquer world tendencies. He developed new design, in which constantly "play on" volume, form and finishing of the models.
Gescier, who always in searching new forms and materials, created watches for women. Its presentation was on Paris Fashion Week in frames of Balenciaga show (collection spring-autumn 2011). Model was created for independent, modern and stylish women.
Design of watches inspired by forms of wall clock Cristobal Balenciaga from legendary boutique on avenue George V in Paris.
Nontraditional design presented in the image of big rectangular case, in which fixed small dial with disc indication of time. This model can't be referred to horology, it is more stylish accessory, which will mark flawless taste of its owner. Watches are complemented with wide straps from leather of lizard, alligator or python. There are several variations of model, differ with color of strap and case. Novelty Balenciaga, which is on sale in November 2011, coasts about $1400. Watches produced in limited edition of 1000 pieces.