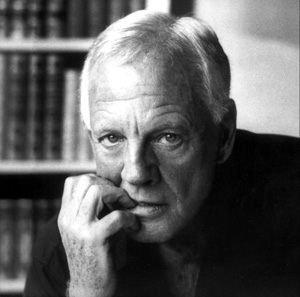 The famous fashion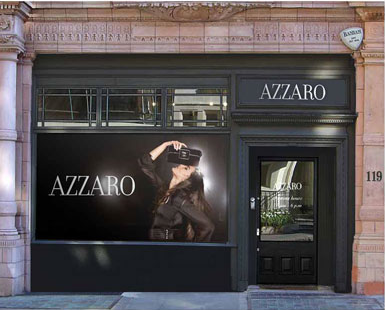 designer and perfumer, the founder of Azzaro jewelery house, Loris Azzaro was born in 1933 in Tunisia into a family, predominated by creative atmosphere. Loris' grandfather was an architect and the grandson wanted to follow his steps. But by that time the family's financial state had worsened and Loris' father was not able to pay his studies at a university. Loris studied French, history and French literature. Later he started teaching French Literature at schools of Toulouse. He entered the University of Toulouse, where he studied political sciences.
Loris Azzaro founded his own fashion house in 1965. Many celebrities ordered dresses from the young fashion designer. Azzaro is considered the knight of femininity, by his words, he's inspired by any demonstration of beauty, but primarily by the beauty of Woman. Azzaro doesn't make casual gowns; he creates only evening, cocktail, party dresses, dresses, sewn of floating fabrics, making a woman an elegant and chic creature. Azzaro loves the black colour; he says, that is gives a woman special irresistibility, attraction and drama. The famous fashion designer also produces shoes, bags, hats, fragrances and, of course, wrist watches.
The post of Azzaro fashion house's creative director was taken by Loris' daughter Beatrice at the end of 1990. Vanessa Seward, a popular designer, whose mother worked at Azzaro boutique, has been heading the fashion house since 2004.
The first collection of Azzaro watches, produced in the Swiss city of Neuchâtel, was presented at BaselWorld exhibition in 2007.
Each collection, produced by Azzaro company, includes sophisticated luxurious models, possessed with all Swiss watch qualities, equipped both with mechanical and quartz movements. The durable cases provide sustainable protection from scratches, shock, moisture and dust. Azzaro wrist watches are supplied with many functions, making them irreplaceable for everyone and even for those, who lead an active way of life. Despite the fact, that Azzaro watches appeared on the market not so long ago, they are highly competitive with many famous watch producing brands. Everyone will find a suitable model in the rich assortment of presented collections.
The Sparkling Rose collection's sophisticated women's wrist watches will highlight their owner's femininity. The oval cases, decorated with 36 or 96 diamonds harmonically combine with the black or white dials. The cases are made of stainless steel, PVD-coated steel or rose gold, the bracelets are made of steel or leather.
The Sparkling Orchid collection includes elegant women's wrist watches with barrel-shaped cases, made of steel, PVD-coated steel or gold, supplemented with steel bracelets or leather straps of different colours, similar to the colour of the dials.
The Ise collection consists of elegant watches in art-deco style, it was produced not long ago and has grabbed everyone's attention at once. The small dials, included in pretty large cases, look very originally. The cases and the bracelets are made of stainless steel, PVD-coated steel or yellow gold. There are also models with natural leather straps. The collection also includes some models with cases, decorated with diamonds.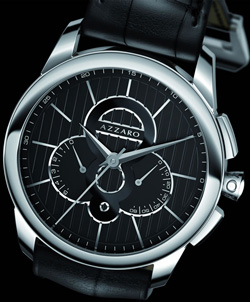 The Cookie collection's extravagant watches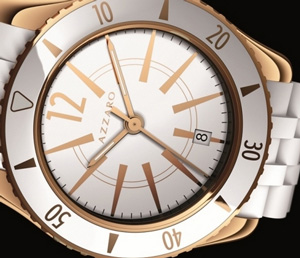 with asymmetrical cases are decorated with diamonds in different styles and shapes: in the form of stripes, lines, reminding waves, in the form of stars, etc. The crown is situated below the case center. The riund dials, decorated with diamonds, don't have any hour marks, there's just the company's logo at the "6" position.
The Legend collection represents men's wrist watches and chronographs. The designers provided multiple variants of colour layouts. The models' cases are made of stainless steel or gilded steel, the straps are made of natural leather. They are equipped with Swiss quartz movements, providing precision and sustainability.
Azzaro company has also produced some sports watches collections: "Tutto Sport", "Coastline", "100% Azzaro".
Azzaro wrist mechanisms' elegant exclusive design and inimitable style won't leave them unnoticed. The non-standard outlook, typical of this brand, won't let you mix them up with any other brand's watches. They will become a proof of not only its owner's eminence, but also of his subtle taste.
You can buy an Azzaro watch in many countries of the world or order it at online watch stores.