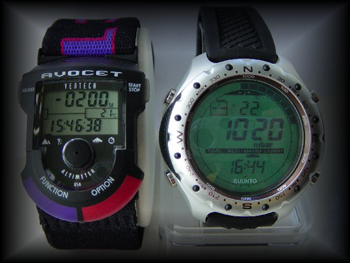 Avocet company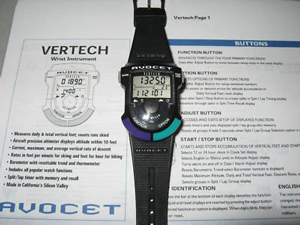 was founded in 1977. The brand specializes in producing sports inventory for such active sports, as mountain climbing, bicycle racing, mountain-skiing and sport tourism.
The company has been producing Avocet Vertech II chronographs, supplied with an altimeter, a barometer and a tonograph functions since 1992. The chronograph indicates the changes data during climbing every 5 or 10 feet, the change level during ascension and descent, the climb part, passed during the maximum level of climb, the heart rate and the temperature. The barometer is supplied with a weather forecast function. The chronograph also indicates time and is supplied with an alarm function.
The following 2 models: Avocet Vertech Ski and Avocet Vertech Alpin are the series' logical continuation. The Avocet Vertech Ski model, designed for mountain-skiing, is especially unique. Apart from all the functions, stated above, this model counts the skier's steps. In fact, the sportsman can find out the quantity of steps he made for a specific time period.
And the super-sustainable Avocet Vertech Alpin model is supplied with the function of a barometer, indicating atmospheric pressure at a specific height. All models are split-chronographs.
Avocet company's chronographs are ideal companions for mountain climbers and mountain-skiers. The power reserve of the batteries, produced by Avocet company, is 2 years. These wrist watches have become an inseparable part of any mountain-skiing and sports tourism competitions and mountain climbers' ascensions.
These chronographs' durability and sustainability, their multifunctionality and elegant design can become an indisputable reason to buy an Avocet watch.