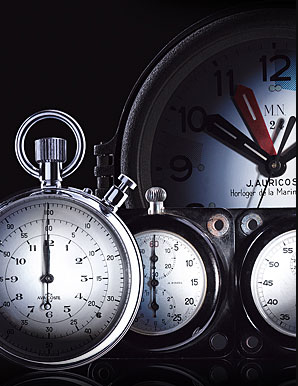 The French Auricoste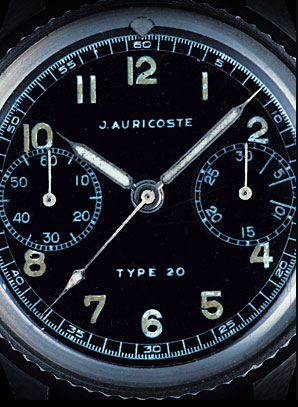 watch company is a century and a half of watchmaking traditions. It was founded in 1854 by Émile Thomas. Émile Thomas was a well-known watchmaker and a big specialist in the sphere of naval chronometry. Since its creation the company has been bounded with the French Navy and Air Forces. This company's chronographs were considered ones of the most precise in the world. In 1889 Joseph Auricoste, whose name was given to the company, becomes Émile Thomas' successor.
The new stage in the company's history started after The Second World War. Auricoste elaborates the new electromechanical watch for the French Naval Fleet in cooperation with Patek Philippe. Auricoste continues cooperating with the French army. The company's chronographs were used in all French army military units. Multiple orders were also supplied by foreign military forces. The main peculiarity of Auricoste watches is their functionality. These are the watches, designed for specific aims and profession. They have a personal aesthetics, but nothing more, than that. An Auricoste watch is not an accessory, it's a sustainable instrument.
Auricoste collection is represented by 2 lines: the Type 20 and Type 52. The models are produced extremely thoroughly, each of them has a 3-year warranty. The watches are equipped with the famous Dubois-Derpaz manufacture movements. The cases are made of high quality stainless steel, the dials are protected with plexiglass crystals, the straps are made of alligator leather. You can buy an Auricoste watch from the company's official distributors or order it online.