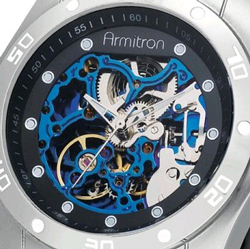 Armitron watch brand originates from 1956, when "E. Gluck Corporation", consisting of 2 watch companies – Anne Klein and Armitron, was created. Nowadays Anne Klein company is a part of "Sutton Time" corporation. Armitron watches were created at Eugen Gluck, the company's president's, will, who wanted to create a true "people's" watch brand. His wishes and dreams were realized, as the brand was gaining popularity rather rapidly and the company's models occupied their place at the watch market. Moreover, nowadays Armitron brand's watches are inside the top ten best selling watches on the North American continent together with such brands, as "Timex", "Fossil", "Guess", "Seiko", "Bulova", "Citizen", "Casio", "Pulsar", "Movado". Armitron watches combine high quality, inimitable, yet distinguishable style, convenience and sustainability. The wide assortment includes both classic and sports watches, mechanical and electronic ones. Models, decorated with Swarovski crystals, executed in various designer solutions, will become inimitable accessories for the gentle sex representatives. An Armitron watch is an unbeaten style embodiment, a strive for motion and victory, and all this is offered by the company at very affordable prices.
The Armitron Sport collection models will become great companions for people, who are always in motion, in the search for something new. The collection's models variety will surprise anyone. All watches' cases are made of stainless steel. The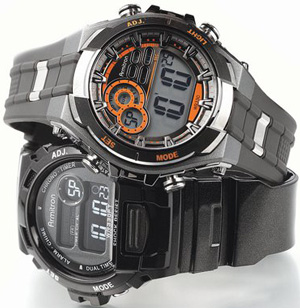 colorful dials are supplied with luminescent hour marks, covered with mineral crystals. The models are supplemented with rubber straps or steel bracelets. The watches' water resistance is from 50 to 100 metres. The collection's models are equipped with every function, essential for those, who lead an active way of life.
The women's Armitron collection represents inimitable models, decorated with diamonds and Swarovski crystals. The watches' cases, made of gilded steel of different colors, are supplied with subtle bezels, giving the watches luxurious outlook. The colorful and nacreous dials are supplied with Arabic or Roman hour indexes, decorated with Swarovski crystals.
The special place in the women's collection is occupied by ceramic watches, executed in different colorings. The black dials, supplied with Swarovski crystals instead of numeric indexes and the silver bezels, fully besprent with the same Swarovski crystals, give the watches luxurious image, presenting the magic play of the glittering gems. There's another model with a golden case, which harmoniously combines with the white enamel dial and the gilded Roman indexes. The models are supplemented with ceramic bracelets of different colors. The watches' water resistance is 30 metres.
The luxurious models, decorated with multicolored gems and bracelets and watches in the form of subtle bracelets will become irreplaceable accessories.
Nowadays Armitron company also produces models with popular cartoon characters' images, which will gladden children, by order.
You can buy an Armitron watch from the company's official dealers.