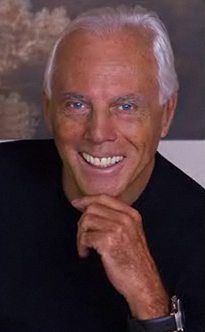 Emporio Armani brand's creation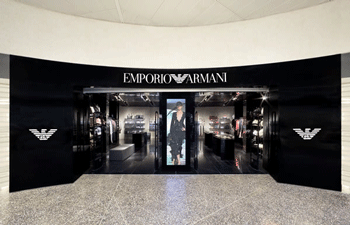 history dates back to 1975. It's founder, Giorgio Armani, made his first steps in men's clothes designing. In the beginning of 80's he became one of the most famous and influential designers, whose name blew up not only Italian fashion industry, but also American. Many Hollywood stars gave preference to his pieces. Today Armani is a great fashion industry, producing men's, women's, children's clothes, footwear, perfume, mobile phones and various brand's accessories, completing your style. In 1990 the brand started making wrist watches.
Italian Armani watches are meant for people, who have a knack for fashion, value chic and luxury. The brand's founder compares watch designing with every woman's individuality and singularity. He personally took part in first watch collections' designing. The wrist watch design is developed within the general Armani style concept.
Fossil Group company produces the brand's watches. The movements are developed and produced by a Swiss company, called Claro, since 2004. An Emporio Armani watch is a display of your taste, Emporio Armani watches are preferred both by many presentable people and by lots of adventure seekers, who like completing their style with sports accessories. Emporio Armani produces both men's and women's watches.
The watch brand has produced 3 men's watches lineups: Classics, Sports, Meccanico.
The Classics series men's watches stick to the classic menswear canons. These watches are preferred by strong-willed men, who reach everything in their lives by themselves. These watches models are eternal classics. They will never get down from the Olympus of glory.
AR014 watch, a piece of the Classics collection, is a classic model with an elegant black strap, a thin white metal case, silver Roman digits, placed on the velvet black dial and an Emporio Armani brand eagle logo, placed at the "12" numeric index. This collection has a lot of models with leather straps. The Italian Classics line design is executed in the 30-s classics style: sharp Roman or Arabic numeric indexes, a sub-dial seconds hand, a small date aperture.
The Sport collection watches come either with a rubber bracelet or a leather strap. The quartz AR5901 watch is a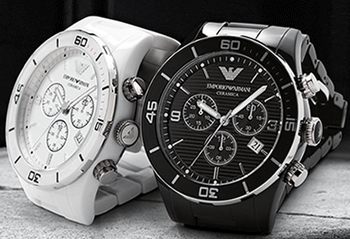 Sport series model, notable for its original design. This watch suits people, leading an active way of life and going in for extreme sports. The watch's dial is made of stainless steel.
The Meccanico line watches are meant for non-trivial design lovers. The AR4606 model with its asymmetrical exquisite dial is a result of the designer's extraordinary creative thinking, an offspring of his imagination. This is a mechanical water resistant watch with a stainless steel case and a crocodile leather strap.
The Ladies collection is meant for the gentle sex representatives and features 2 watch lines: Classic and Fashion.
The Classic collection is an elegant models assembly. This line's watch is an ideal gift for a business-lady. A women's watch with a nacreous dial will become a perfect highlight to any business-lady's evening gown.
The Fashion line is for women, who want to stand out among the ruck. The watches have vivid coloring, originally-shaped cases and a finishing touch of jewels incrustation.
Buying an Italian Emporio Armani watch means purchasing a chic accessory, that will never be out of fashion.