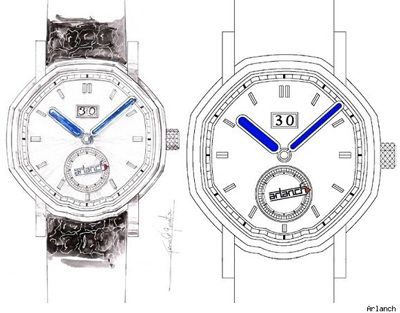 The Swedish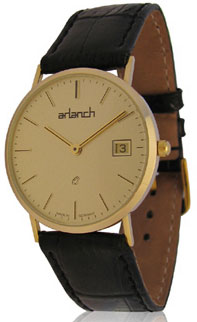 Arlanch watch brand was founded in 2007 by Gabriel Arlanch. The company's basic concept is producing eco-friendly watches under Arlanch trademark, with recycled gold usage in the watches' production. The strap is made of leather without polychloroprene addition and the quartz movement, used in the watches' production, has no lead, quicksilver or cadmium admixtures.
The first wrist watch model, presented by Arlanch company, was the No.1 model. Its case was made of 14-carat recycled gold. The watch is equipped with the TA 955.412 quartz movement. You can buy the model for about $1000.
Recently Arlanch watch brand has presented the luxurious sports watch model, created by the world-famous designer, Gerald Genta, the author of such famous watch models, as Audemars Piguet Royal Oak, Patek Philippe Nautilus, Bulgari Bvlgari-Bvlgari, IWC Ingenieur, Cartier Pasha. The model's octangular case is equipped with the automatic La Joux-Perret movement. The strap is made of crocodile leather. The watch's power reserve is 44 hours. Arlanch company's logo, replicating the seconds hand's function, is situated at the "6" position and the day indicator is situated at the "12" position. The model became a renewed version of the famous Royal Oak model.
In 2009 Arlanch watch company presented an innovative idea for the watchmaking world. It's experts found a way to avoid release mechanism oiling. Gabriel Arlanch says, that he was also interested in the release wheel, which is the only watch mechanism, that can be improved. First he wanted to find an alternative solution in the mechanical structure, but then the idea of coating crossed his mind. Arlanch company in cooperation with Primateria company, involved in surface studies, introduced the idea of graphene usage. If you coat the artificial gem foundation with graphene, friction is reduced to inconsiderable value, eliminating the necessity of oiling. Graphite is formed of carbonium atoms, combined into a one-layer crystalline grid – graphene, which is the most thin and the most firm material of all currently known materials. Moreover, graphene is a perfect lubricating substance.
An original Arlanch watch with its elegant design and eco-friendly characteristics will highlight its owner's sophisticated taste and style. You can buy an Arlanch watch from the company's official representatives.