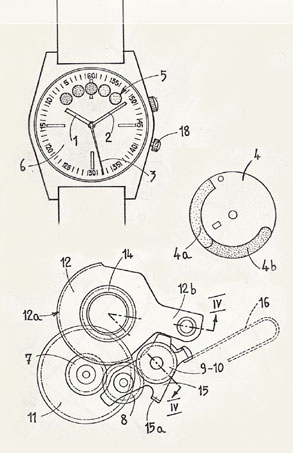 Aquastar watchmaking company's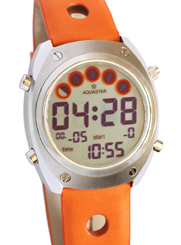 foundation dates back to 1962. The company's headquarters is situated in Geneva, Switzerland. At first the brand produced models, based on automatic movements with manual or automatic rewinding. Nowadays the company specializes in production of sports chronographs, made for sea regattas and underwater sports. The first Aquastar model was the Benthos 500 diver watch. The model is water resistant up to 500 metres. It was a revolutionary step in the sphere of watchmaking. A new technology, based on circular cross-section rings' operation, was used to achieve it. Before that, the usage of plane cross section rings was a stumbling block for reaching high water resistance. But the company invented the new technology, that exterminated the defect. Now, if you press the button, situated at the "4" position during diving, the orange minute hand sets to the "12" position and starts aqualungers' time countdown. The dive length is counted by the bezel rotation, which sets the triangle to the same position as the minutes hand is in by its backward motion.
The next innovative achievement was the sports Regatta watch, made for sea regattas, production. The models are equipped with the 5-minutes leaving time countdown movement. At the beginning of the 70-s the movement was improved: the leaving time countdown could be set to 5 or 10 minutes.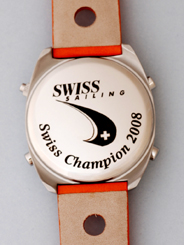 There are 5 apertures on the dial between the "10" and "14" indexes, which allow you to watch the disc, showing the minute hand operation. The first 5 minutes countdown is shown by the blue disc and the next 5 minutes – by the red one. The case, the case back, the crown and the screw-down buttons are made of stainless steel. The dial is supplied with a sapphire crystal. The strap is made of natural leather.
The Match Racing II collection model lineup is represented by the chronograph, equipped with the start-stop function. The watch's case is made of high quality stainless steel. The start-stop function button is protected with anti-shock coating. The case's width reaches 47 mm. The model is designed on the basis of the Aquastar LCD 9000 movement. The model is water resistant up to 50 metres. The dial is protected by a sapphire crystal with increased resistance. The strap is made of natural leather or high quality rubber.
Aquastar brand's model lineup is notable not only for its Swiss quality, but also for its sophisticated design, corresponding with all sports style canons. You don't have to be a professional sportsman to buy an Aquastar wrist watch. This small and precise friend will always accompany you in all your exciting adventures in the underwater world.