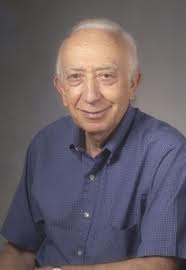 Apella watches combine modern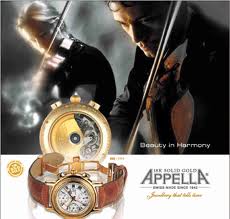 designer works with classics and ingeniously conjoin traditions and fashion. Apella brand produces great watchmaking art masterpieces.
The company was founded in 1943 in the North-West of Switzerland, in the Canton of Jura. Apella Sarl company was founded by a legendary Swiss watchmaker Paul Glocker, Ebosa group president. Paul was born in the city of Rheine. He had been mastering his watchmaker skills, working as a mechanics teacher and he also studied the art of watch movements founding, adjusting and production at the Baumgatner factory. Paul gained the name of a skillful watchmaking art expert for a rather short period if time. He became even more self-assured after organizing Embosa group in 1925 and Montres Apella Sarl company in 1943.
Montres Apella Sarl company's headquarters is situated in Geneva. The company has its representatives in Los-Angeles and Dubai. The brand is registered in 70 countries. The company has a wide assortment: about 200 men's and women's watch models. Each model has 9 color variations. The company creates decades of combinations, thanks to different bracelet execution variants and dials' color schemes.
Apella brand is one of the most prestigious Swiss brands, producing certified chronometers. Each chronograph's movement has a personal certificate (COSC).
The company has created the most thin gold watch in the world. It was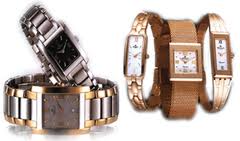 officially presented on the 6th of November 2005. It was presented at the highest innovative achievements stand in Bazel (Switzerland).
Apella brand has created a classic collection, possessing high technical specifications, an elegant design, an affordable price and flawless quality.
Apella brand's mechanical models are equipped with 25-jeweled Swiss ETA movements, making the watch durable and its movement precise.
The model's dial is supplied with an aperture, which enables you to watch the movement's operation without taking the watch off your wrist. The model is supplied with an automatic rewind function. Apella watches' mechanics is supplied with the Etachron system, enabling you to fine-tune the watches' precision and the sustainable Incablock anti-shock system, which softens all watch hits.

Apella company uses the best movements and high quality materials in watch production. The models are equipped with high quality crystals: strained mineral crystals, which protect the dials from hits or scratch resistant sapphire crystals. Apella watches' case backs are made of firm transparent glass, which allows you to watch the movements' operation. This is not only a unique designer solution, but also an expensive watch sign. The brands, that produce cheap models, don't show their movements.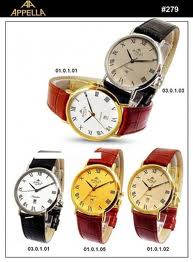 The cases and the bracelets are made of stainless steel. Stainless steel is a firm, durable and sustainable material, that doesn't react with skin. This material's coating is much more durable, than on any other material. The coating process in watchmaking is rather expensive.
You have to pay attention to material choice, when buying a watch in order to get a timepiece, that will preserve its great appearance for a long time.
The models are supplied with a 5-micron thick 18-carat 750 standard gold coating. The coating is made, using the most sustainable IPG method. All Apella watches are water resistant up to 30 metres, all mechanical are up to 50 metres. The watches' case backs are screwed with bolts. This method provides better water resistance.
All Apella brand's watches have high quality components and stylish design. Any model possesses Swiss quality and high prestige and its purchase will highlight the person's individuality.
The watches' movements assembly is performed by high-qualified competent experts, creating watchmaking art masterpieces. Any Apella men's or women's wrist watch piece embodies precision, luxury, exclusiveness and sustainability.