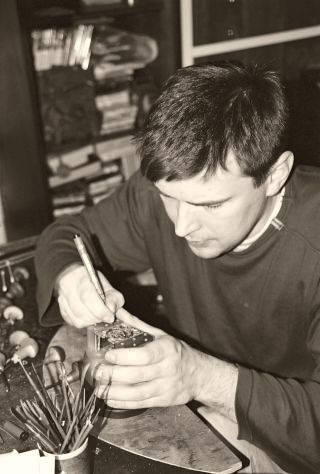 Andrew Vorontsov, the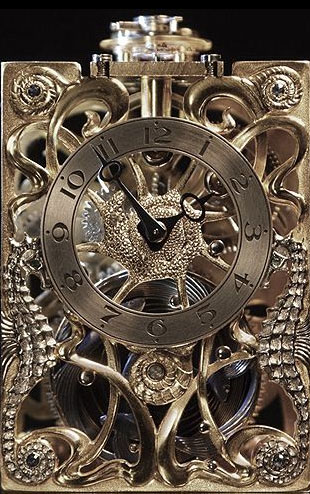 founder of the cognominal brand, was found and lives in Saint-Petersburg, the city, where long-standing picturesque architecture harmoniously combines with modernized urbanistic elements. The world of artists, he became familiar with in his childhood, left an ineffaceable impact on his future career choice.
Andrew Vorontsov has been collecting, buying, restoring and selling antique watches for some years. The watches became his alter ego and he decided to launch his own brand, called Andrew Vorontsov. In order to get some additional special knowledge in mechanics and mathematics Andrew Vorontsov graduated from a technical university and has worked at the Saint-Petersburg School of Stone Carving Art for 8 years.
Andrew Vorontsov performs all manipulations in the process of detail creation himself. As a result, his every detail is burnished and edged to perfection. The skillful watch craftsman has made the following watches by his hand: the carriage "Seahorse" and "Dragonflies" watches, the "Leda" ball watch, the "Bat", the "Fabric" and the "Octopus" wrist watches.
The Octopus model is a skeletonized wrist watch, designed on the basis of a high quality Swiss movement. The case and the crown are made of stainless steel. The movement is based on jewels. The dial is embossed with octopuses images. The watch was sold for $45000 and nowadays the model is in a private collection in Japan.
The Dragonflies model is also a skeletonized watch. A Swiss movement is used in the model's assembly. The watch's case and crown are made of stainless steel. The dial is embossed with dragonflies images, made of white and yellow gold. The model's price is $49000. It is also in a private collection in Japan.
If exclusiveness and unique design are your priorities, don't hesitate to fill out an order for the watch purchase. It's the only way to buy an Andrew Vorontsov watch.