«Feel how your life is rich when it is full of emotions» Alain Sauser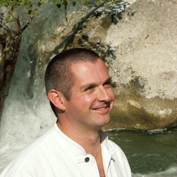 Alain Sauser was born in 1964 in La Chaux-de-Fonds, Switzerland in a family of watch-makers. It was predetermine that the boy would continue family tradition, but the time and the number of factors made some corrections in family traditions and plans on a future.
In 70-s of XX century there appeared the first quartz watches which for some years were widely spread in the World trade. He broke down the system of horology values. The volume of mechanic watch production reduced immediately. Many companies were almost bankrupted.
In such a difficult situation Alan decided not to continue his parent's business and decided to study economics and informational technologies. For many years he was processing and writing programs for Lux-business direction.
The attention towards mechanic watch increased gradually. World market of Swiss-made watch renewed and Sauser started to study horology.
For some years he had been working at the position of a manager in well-known watch-companies. In 1997 he decided to stay in his native Switzerland and started to process watch design and jewellery at the same time he started to collaborate with many Jewellery Houses. He got many clients.
In 2004 Alain Sauser registered a so called Alain Sauser brand having called it by own name, started up own business. In a year there came the first collection of Alain Sauser watches which was called Éléments. It included 4 series which symbolized four elements: Water, Land, Air and Fire.
Alain Sauser in his own way showed these elements in the design, having made a huge design conception for all these four watch series. Dial has a small central hands which depict hours, minutes. It is framed by a wide border which is divided into 12 sectors (each of which is equal – one hour).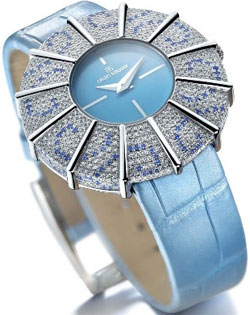 Air series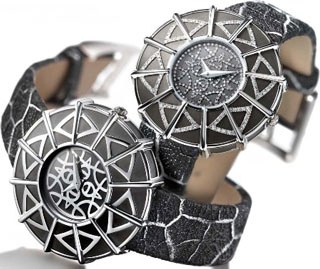 includes watches which main colour is light-blue. Round case is made of white gold and surrounded by wide frame of diamonds and blue sapphires which personifies "air" as nature element. Blue genuine leather strap erectly accomplish all the composition.
Water element is presented by watch series «Eau» made of white gold. Transparent diamonds were used for decoration, sapphires of dark-blue color make a beautiful ornament in the framing of the case. The model is supplied with blue strap with silver sputtering which remind drops of water.
Fire element is presented by watch series which is called «Feu». Cases are made of yellow gold and decorated with diamonds, rubies and yellow sapphires, which perfectly suit bright-red dial. Gems incrustation in the bezel reminds the body of flame. Watch model is supplied with bright-red strap made of genuine leather of ray.
«Terre» series is presented by the models which personify land. For watch decoration were used red and brown colours. Case is made of rose gold, the ornament in the case is made of rubies, black and transparent diamonds.
Éléments collection also contain romantic models such as Nuit (which means - night) and Nuit Étoilée (which means – stellar night) and others.