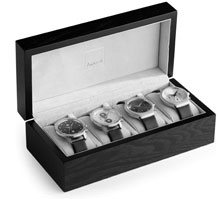 The Addex brand is popular around the world

with combining the new technologies and leading designs under constant and strict control of quality during manufacture. The company designers succeed in the creation of outstanding and modern products, remarkable for the moderate prices and European quality.
Besides clocks, alarms and wrist watches, Addex is specialized in production of the writing instruments, computer accessories, umbrellas and others.
The Addex wrist watches are presented by series: Lady's metal watch, Gent's metal watch, Multifunction LCD watch.
The Lady's metal watch collection is distinguished by simplicity and femininity of design. The models are constructed based on the quartz mechanism with the soft leather straps.
The Gent's metal watch collection is made in the strict classical style: square and round cases, soft natural leather straps of retained colors, made on the base of quartz mechanism.
The Multifunction LCD watch is a collection of LCD watches with two replaceable bezels and five functions: double time, calendar, stop-watch, alarm and blue display illumination.