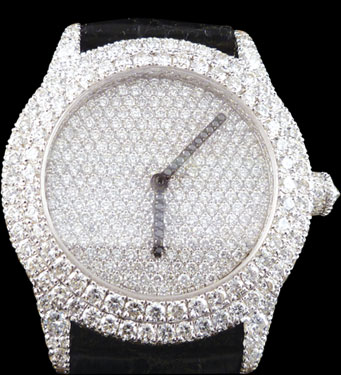 Jewellery art is one of the ancient and widely spread kinds of art and creative work. In ancient times necklaces and bracelets earrings and rings were made of different natural materials. Time passed, there appeared fictility and a man created new tools for wood, bone, metal, stones and gems processing. There were widely spread jewellery made of serpentinite, rock crystal, amber, jadeite, obsidian, jasper and others.
Jewellery developed at the same time with material culture forming and everyday life in different corners of the world in different intensity. The most advantageous conditions for its development there were in India, China, Egypt and countries of the Middle East.
In the East Jewellery was in blossom in the middle of the XIX century. There were opened a lot of work-shops, ATELIER FINE JEWELLERY was at a special position. It was founded in 1848. Jewellery contained precious metals and gems produced by experienced jewelers were differ by their flourishing decoration and design, which payed attention to the beauty of the materials that were used.
For few years the company became world famous and took leading positions among jewellery companies. During the time of the first World War ATELIER FINE JEWELLERY a bit held up its production and restarted only in 1975. A great-grandson renewed the brand ATELIER FINE JEWELLERY (ATELIER FUR FEINE JUWELEN) and registered in Switzerland. The company started to produce jewellery which design was restricted and conservative. Modern innovation technologies were used.
In 2011 ATELIER FINE JEWELLERY work-sho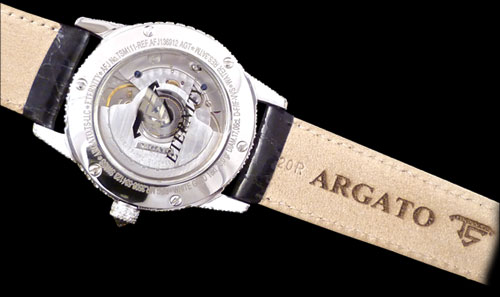 p together with ARGATO. TS-LLC started manufacture of Eternity watch which completely fades the difference between horology and jewellery mixing them up together in a perfect blend.
Watch's design is based on the play of light and shadow – a magic play of gold reflections in precious gems makes this model a real piece of art.
The dial and central hands, case and strap fixation are incrusted by 686 diamonds, connected by an invisible construction. Gems are processed with apply of revolutionary technologies Ice jewellery which make shining of diamonds and other minerals brighter and colour seems deeper.
As it is known, gold and diamonds are "eternal values", that is why the series ow watches is called Eternity.
Regular pass of "Eternal" watch is provided by a Swiss movement supplied with automatic rewind.
Model is packed in a special hand-made box made of walnut roots. The box making contain a number of a complex operations of wood processing& ideal polishing, smoothing and finishing of box surface as a result there comes an example of a perfect hand-made thing. The box usually has velvet inside.
ARGATO. TS provides a full life time guarantee for its one's production. ARGATO. TS watch can be bought at the official web-page.
| | |
| --- | --- |
| | |