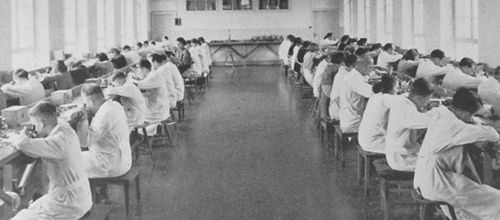 On the 1st of April 1923 a merchant Philipp Weber together with a watchmaker and a former Marabu manufacture manager, Jakob Aeschbach founded Weber & Aeschbach company in Pforzheim. The company's main goal was pocket and wrist watch production. Jakob Aeschbach started searching for the best watchmaking industry specialists and Philipp applied all his efforts to obtaining all necessary licenses for using Swiss watch movements. By the end of 1923 Weber & Aeschbach watch company became the first German company, using Swiss movements. In 1930 Weber decided to start wholesale trading of the produced wrist watches and managed to create a cooperative society, consisting of 3 workshops and one cases assembly plant almost overnight. By 1931 the "Pfolzheim Collection" was ready. The collection won success at once, because it featured a wide assortment of different attractive models. Soon Weber & Aeschbach company became an attractive partner for other watchmaking industry wholesale retailers and this reason was the main to push Weber to creating his own brand, which was registered in 1924. In 1932 Philipp Weber, Jakob Aeschbach and a technical expert Wilhelm Rentschler founded Rentschler & Co manufacture, producing watch cases, mostly of gold.
The daily production rate of Arctos brand wrist watch
movements by that time reached 320 pieces. Despite his rather close familiarity with many Swiss watch movements suppliers, Weber encouraged creation of watch manufactures, producing different watch parts, in his own country, in order to get rid of the Swiss watch monopoly, at least partially. In 1932 he purchased 20% of the shares of "UROFA-Glashutte AG" company, which was involved in watch movements production, and was appointed the company's vice-chairman of board of directors. 20 years after its creation, in 1943, the company's 4 manufactures had 900 people, working there. On the 23rd of February 1945, during the Second World War, the city of Pfolzheim was completely destroyed by bombers in 20 minutes and Weber & Aeschbach company continued its existence only in its name. In 1947 reconstruction of destroyed plants started. Weber & Aeschbach company's rebirth was helped by A. Steudler & Co company, which produced different movements regulators. On the 21st of October the same year Weber & Aeschbach company was renamed Arctos-Uhrenfabrik Philipp Weber ("Arctos" is the Greek name for the Charles's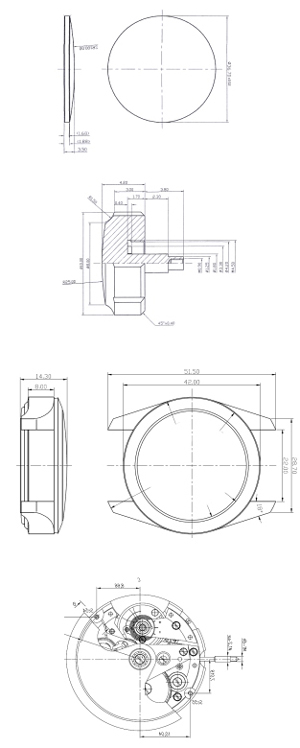 Wain constellation). In 1956 the company presented the Arctos-Horometer watch model at the Hannover trade fair. The model was executed as a table clock and as an automatic wrist watch. As the mass media representatives stated, these durable mechanisms were able to show precise time in any corner of the planet. The Arctos Elite model was also presented. The Arctos Elite model was made for well-to-do clients, preferring German high quality watches, capable of competing with Swiss watches. In 1962 Weber died and the company was headed by the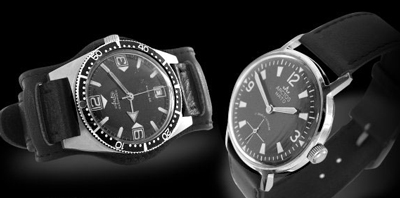 young Werner Weber. As a result of years of research, in 1971 Arctos company presented the prototype of the first quartz watch, produced in Germany. In 1982 the demand for high precision watches rose dramatically and soon The German Ministry of Defence assigned Arctos company to create chronographs for pilots and submarine captains. Arctos brand's watches became official standard German and NATO armed forces equipment elements. In 1994 Arctos-Uhrenfabrik Philipp Weber company, as well as many other watchmaking brands, uncompetitive due to the inexpensive digital watches' watch market capture, had to withdraw from market. But in 81 year after its creation, Arctos-Uhrenfabrik Philipp Weber was restored in a small town of Aarbergen, situated not far from Pforzheim. The company continued Arctos military style watch production. This new watch line won great popularity all over the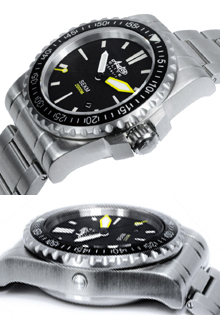 world rather rapidly. It included such models, as ARCTOS ELITE NATO, Marine Diver, Black-Wave and NATO GPW. Arctos company was the first German company to introduce the NATO GPW automatic watch, made with the usage of zirconium oxide (ZrO2), high-technology ceramics and titanium.
All Arctos models' dials are covered with sapphire crystals, which is highly scratch resistant. The crown is supplied with a firm screw, that protects the watch from moisture and dust, raising its durability. All models are equipped with best European automatic movements, including Swiss ETA movements.
Nowadays great attention is paid to detail, maximum precision and durability during the great Arctos watches production. These unbeaten watch characteristics allowed Arctos company to become an undisputed leader in the choice of watches for military units, acting in extreme circumstances.
You can buy an original Arctos brand's watch at best watch and sports shops or ordering it at the company's official website.