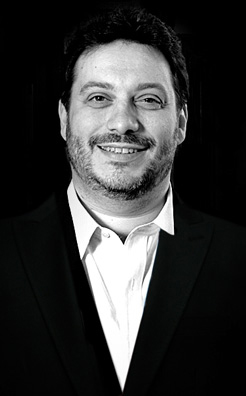 2 LMX is a young watch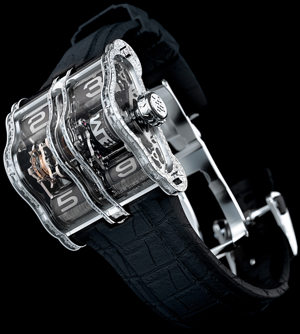 company founded by Arnaud Tellier, a man who during many years worked with talented masters watchmakers and designers in the watch industry.
Arnaud was born in 1967 in Rouen, Normandy's historic capital, into a family of art lovers. All his childhood and adolescence he was surrounded by art and painting. Perhaps, this all caused the 7-year boy's great interest to watches. Then his love and passion to these small masterpieces became stronger and stronger that he began studying the horology and restoring antique and rare collectible timepieces. For ten years he worked at the Antiquorum company founded in Geneva in 1974. Antiquorum is one of the leading auction houses specializing in selling watches. Here Arnaud became familiar with such well-known watch specialists as Jean-Claude Sabrier, Anthony Turner, Simon Bull, Andrew Crisford and Sebastian Whitestone. At International auctions he also met some collectors, watchmakers and founders of different brands and saw a lot of models designed by masters. Then over eleven years Arnaud worked as a curator at the Patek Philippe Museum.
But Arnaud always had dream and desire to make his own watches at his taste as well as brand. He wanted to create exceptional, rare, modern wristwatches. So, in summer, 2011 the 2 LMX brand was born. The brand's name itself talks about originality and uniqueness. 2 LMX timepieces are being made in Switzerland and assembled by hand. They are of peculiar design and limited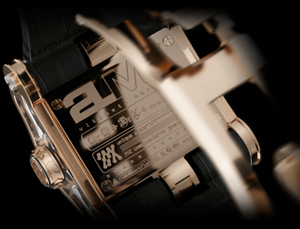 editions of five pieces a year.
Watch cases are made of titanium N5, platinum 950 and 18 carat white or rose gold. The rectangular case is divided into two parts separated from each other by toothed components. Each so-called part is separately covered with a sapphire glass with anti-reflective coating. Leather straps of many colours with a folding clasp made of the same material as a case attach to models. 2 LMX watches are equipped with in-house manual winding movements, two parallel barrels and a vertically installed tourbillon. The movement itself is vertically constructed and consists of 337 components on 44 jewels. Its frequency is 28800 vph, and power-reserve is 120 hours.
The 2 LMX company headed by the talented watchmaker Arnaud Tellier is ready for realizing any everyone's dream who will want to wear a 2 LMX model on his wrist. The model can be made in any colour. Arnaud notices that in addition to 5 ordinary pieces the company will produce three pieces more of any model at a future owner's taste. Besides watch material, the owner can also choose precious stones with which the watch will be decorated.
Uniqueness and original design finishing are 2 LMX watches being the new embodiment of time.