Binary watch
Long ago I asked my friend to tell me what the binary number system is. Because I'm a girl far from any technical refinements and subtleties, my friend thought of the answer. "Well, you know ... it's like love - either there is or not, and nothing can be done with it. In general, the numbers are encoded by number one or zero. One - there is a signal, zero – is no signal."
And this is with binary watches. Perhaps by turning them around, you say to yourself, "Well, head and share the same rubbish. And what can we do?" Or, (and this version is most likely) seeing and holding it in your hands, you'll want to figure out what it is, "what you can eat with," and of course you want to buy this kind of watch. Well, for my part, and because of its technical skills and opportunities, I will try to tell (and show) what kind of beast is a binary watch. So, as you understand, "binary" means, that is displayed with only two elements. If you are still not clear what it is, remember the great "cypher" Samuel Morse, who used to send letters of the alphabet by telegraph of the two characters - the dots and dashes.
Modern binary watch also definitely encode the date and time. At first sight for ignorant man it will be quite difficult to figure out that are all these crazy flashing LEDs. You ask, "What LEDs? And where is a dial, hands, or at least e-numbers?". Caution: in search of numbers and hands do not attempt to break in or to open the watch.
To display the time (and in some models and data) in binary watch are used glowing neon points located in separate groups. Location of LEDs groups, their size and colors are unique to each particular watch model.

Originally binary watch was created to conduct scientific experiments. Later, in the years 1920-1940, a Japanese professor Hivari was working on issues of forgetfulness and confusion in the elderly. Despite of the well-known fact about the long duration of life of the Japanese, when they reach a certain age, this problem becomes very important. As a trainer for memory enhancement a professor invited his patients to use his advanced binary watch which displays time with points and sticks. The results were quite impressive. After just three months, pensioners used such watches in everyday life, were marked by significant improvements in memory and attention.

Thus, in the present binary watch is called any watch with an unconventional way to display the time: through points, inverted digits or characters. The invention and further development of diode technology (LED) made it possible to produce a binary wrist watch with an unlimited number of LEDs to display the time.

Certainly, at the moment the binary watch, resembling a piece of equipment of a modern astronaut, is one of the most remarkable and perhaps even eccentric accessories.

Undoubtedly, the world leader in production of binary wrist watches is Japan, and the other would be just awesome. In addition, some German companies also produce such watches. And "budget" market of binary watches is China, but usually it is a copy and imitation of famous brands.
World of time puzzles by Tokyo Flash. Watches for those who like to think about time.
"Do you think what is it?" - I asked my friends and acquaintances in social networks by posting photos of one of the last of the original (like always) development of the company Tokyo Flash. Binary Shinshoku watch, made in form of a bracelet of metal covered holes in which to determine the time needed to count the number of dots of different colors. I must say that the offered versions were very diverse, some of them even made me smile.

Handcuffs for prisoners with indicators?
Rings? Bracelet? A piece of jewelry?
It looks like a sewing machine shuttle ....
Reminds bracelets-weighting for fitness ....
"It's cold, very cold," - I replied.
By evening tightened "advanced youth"
Maybe it's the alarm?
In appearance it is very similar to the watch.
Maybe this is a watch? Any special? For example watch for the blind?...
My old acquaintance, a programmer, who was few years living in Thailand, destroyed an intrigue. "Binary watch", - he said, and put the smiley face. "Binary" - I corrected, and told the rest of what the watch and the principle on which it works.
Each issue of binary wrist watches, manufactured by the Japanese company Tokyo Flash, is strictly limited. Some watches are issued as corporate gifts or gifts for customers and employees by order of a company. Each model of produced watches is unique and exclusive, so out of production, and not sold in the samples, is stored in the museum, its description, photos and even videos can be found on the official website of www.tokyoflash.com.
Every time when a company Tokyo Flash presents another new product, watch world gasps in surprise, and fans of puzzles rather rubbing their hands. "IT pros" and programmers find another topic for discussion with colleagues over a cup of coffee in the morning, and the "advanced" men know exactly what they ask for or they will order a gift for Christmas or another celebration of second half. You never know what inspired the designers of the company with the release of the next watches: the last film about James Bond or a new sci-fi thriller. In any case, we can only envy their inexhaustible imagination. Watch with the name "1000100101" - is not a accessory of FBI special agent?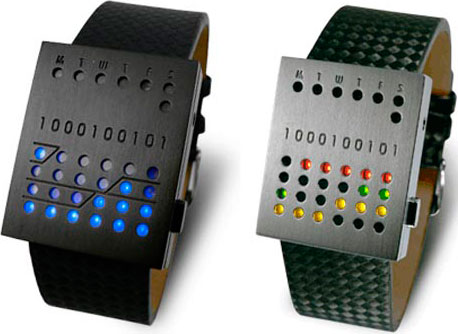 Binary watches Tokyo Flash «1000100101»
A minimalist watch Tokyo Flash, manufactured with stylistic elements used in the film "Tron" and "Space Odyssey 2001", will now surely inspire directors, writers and producers to create new movies. I do not exclude the possibility that some models of binary wrist watch Tokyo Flash can be used as props during filming of some regular sci-fi saga. Interestingly, does George Lucas wear such a watch, the director of "Star Wars"? Personally, I have an association with this film when I saw binary watches Tokyo Flash Kisai Satellite Watch.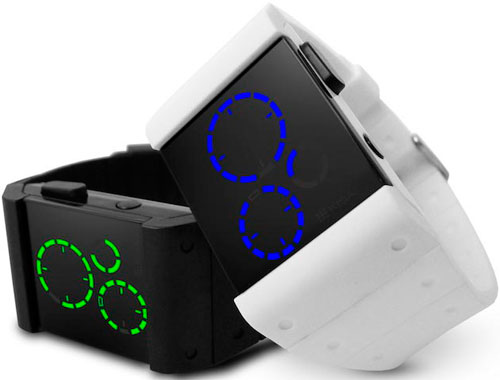 Binary Tokyo Flash Kisai Satellite Watch
Whichever model of binary wrist watch by the company Tokyo Flash you have chosen, such an accessory in any case always set you apart from the crowd. This is a great way to not only say others: "I'm not like the others", but also to create a certain aura of mystery around persona. In any case, such a watch never gives you the kind of frivolous, because the main slogan of Tokyo Flash - «Watch for those who like to think about the time."

Binary watch by a company The one (Germany) - German quality at the service of innovation.
Among the models of binary wristwatches by the German company The one there always are instances of the most refined and sophisticated taste. If you prefer time-tested things which meet the highest standards of quality, but you bored with the usual watches that meet generally accepted standards of etiquette, perhaps you should draw the eye to the side of the binary watch The one. For example, a collection of Art Edition, developed under the leadership of Europe's leading designers such as Walter Heidenrich and Romero Britto, famous for their jewelry in pop art style - is a striking example of the incredible mix of colors and geometric shapes. Such a watch is the best accentuate the exquisite taste and will help in creating personal image true connoisseurs of modern art.
| | | |
| --- | --- | --- |
| Binary watch The One Art Edition (Ref. SC124W1) | Binary watch The One Art Edition (Ref. SC133R1) | Binary watch The One Art Edition (Ref. SC125B1) |
The collection of binary watch Gamma Ray, by contrast, is a classic example of restraint and elegance. Models are made of stainless steel and the best way accentuate the style of the owner and provide silent admiration from others. Although the absolute guarantee of silence your environment, I will not give you. I think that women do not hold out on questions. So this is a good reason for dating, if you have not yet managed to get the second half. Believe me, women always admire men who know how to have a good understanding of technical innovations.

Undoubtedly, the most brutal binary watch The one - it is watches of the collection Ibiza Ride. To paraphrase a famous aphorism you can say about it "I woke up, got dressed, washed, put on watch The one - and went to save the world." With the watch from the collection Ibiza Ride, adds "Terminator" confidence you can cope with any, even the most impossible task of the coming day. This is a watch for those who value their not cheap time, style and personality.
| | | |
| --- | --- | --- |
| Binary watch The One Ibiza Ride (Ref. IRSQ1109BW1) | | Binary watch The One Ibiza Ride (Ref. IRH102RB1) |
The one company not cheated its attention lovers of the classics. Restrained, elegant watches of collection Lightmare and Kerala Trance are one of the most sought after and popular.
In addition, The one has several collections for the feminine. This collection Odins Rage causes excitement of men's hearts and envy girlfriends, in which all watches are encrusted with crystals Swarovski, and uplifting collection SLIM SQUARE, made in neon colors and adorned with butterflies.

| | |
| --- | --- |
| Binary watch The One Odins Rage (Ref. ORS502R1) | Binary watch The One Slim Square (Ref. SLSL140B3) |
Binary watch of the German company Led Watch.
The German company of producing binary wrist watches Led Watch was founded by designer Adolph Indermanur. In the development and manufacture of watches are used the latest scientific developments in LED technology. Wrist watches of the company Led Watch are represented in major cities around the world and sold in the UK, Australia, France, China, Korea, Taiwan, Hong Kong, Thailand, Japan, Malaysia, Singapore, Canada, Turkey and the USA. Binary watches of the company Led Watch are strikingly different from their Swiss counterparts and attract first German quality of steel dials, outstanding design and unique way of counting time. In the line of Led Watch's watches are presented as female and male collection.

To sum up some results, I can say that the binary watch – is an accessory that cannot be called standard, banal and mundane. This is a new, fresh look at the time and manner of its presentation. If we consider the fact that the constant use of binary watch contributes to the development and improvement of memory, it is not just a fashion accessory, but also a way of caring for their health.
If you want to live is not only beautiful, fashionable, stylish, bright, but for a long time and accurately, the binary watch is a perfect choice for you. And do not be afraid that you will not be able to deal with this complex machine to display the time, a couple of days of use of this watch you will easily answer the question: "What time is it?".

Written by Natasha