Retrogrades – comfort or pathos?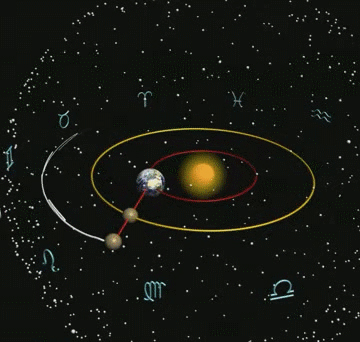 To raise a question on retrogrades is nothing but to think about our world nature and its perception by people. From times immemorial the humanity perceived outworld and time as something repeating and moving in a circle. Day changes night, then day again; summer gives way to fall, then winter, spring and summer again… Planets moves in a circle, stars – on the sky, a complete circulation of life. This is symbolism of eternity. But what about the hero of Greek myths Sisyphus? Day and night the poor creature, punished by Gods, was dragging an enormous boulder into a mountain, which was rolling down to the bottom every time it got the top. Isn't it a symbolism of eternity? The way, going back to its origins; the day, ending by its beginning – the night; summer, ending by winter. So the time has its two-way embodiment: usual time as an endless circle at ordinary dials and "Sisyphus time" in retrograde watches. Let's refer to the meaning of "retrograde". This word means "return to older conditions, methods, ideas, etc" and suits best of all to the hands, jumping back to starting position. Retrograde wrist watches are an excellent choice for those, who value individuality. Of course, you can be different, taking a sand-glass with yourself, but it would cause certain difficulties in handling, and a modern man values comfort first of all, therefore, we can see a new trend at the world watch market – watches with unusual "incomplete" dials that are often exposed at the stands of world watch brands and amaze the sophisticated connoisseurs of exclusive things at the world watch exhibitions. The retrograde dials give the wrist watches with usual classic clear lines of cases a special zest, which doesn't shatter the total image of strictness and emphasizes peculiarity of your watch and your sophisticated taste at the same time. Now a few words about mechanics. The dials in retrograde watches have a form of "incomplete" circle, and the hand, whatever it would show and what indications wouldn't be applied on that scale, at the end of section will certainly return, so to say, jump to starting position. Nowadays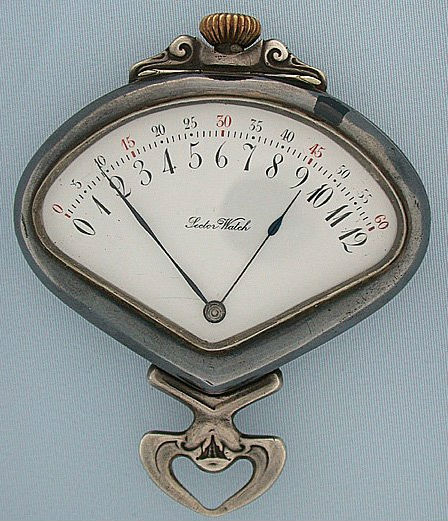 you can see not only retrograde hours and minute, but also retrograde perpetual calendars so popular today: date, week day and month are identified with the help of (remember geometry) various forms of arcs with applied markings. The women watches become the main object of watchmakers' experiments with section dials, as more fans of "unusual things" appear among fair ladies. The retrogrades came into fashion relatively not long ago – in 80s, 90s of past century, although the first section dials were made in the far beginning of XIX century. And what do you think who was the first vanguard watchmaker to use that novelty? No wonder it was Abraham-Louis Breguet, famous for enormous number of patented inventions, applied in watchmaking in our days. Only the retrograde watches, made by the maitre of horlogerie Breguet, couldn't meet their deserved glory, and that technology of time counting was forgotten for almost two centuries. Although one can't say that the manufacture of retrograde watches became a total obsession for watch brands – in present rather few number of watchmakers are developing this trend, but the exclusive models issued become much popular lots at the most famous watch auctions. The fans of retrogrades impatiently wait for new models from such world-known watch brands, as Perrelet, Gerald Genta, Harry Winston, Azimuth, Frank Muller and many others, whose names have already become familiar to sophisticated connoisseurs of elegant classics and fantastic avant-gardism. A retrograde dial is unique for infinite number of different variations of its performance that allows emphasizing the main features of a wrist watch: either clearness of classic case lines, or crazy combination of forms, colors and style of an unusual watch. Retrogrades literally overturn the idea of watches, make the time indication scale a real adornment, which draws all attention. Sometimes, you can count up to three hands, which, for example, show only seconds and fascinate by their movement, running into an amazing dance of time and reviving the dial. Retrograde hands transfer just the sense, laid in a watch: either an automobile chronograph, where the section dial is nothing but a sport car tachometer, or a classic watch with the hands, standing opposite to each other and reminding of some unusual noble bird's wings, symbolizing lightness and airiness of the model. One way or another the use of retrograde dials in wrist watches is a convenient decision that emphasizes a model's individuality without any losses in functionality, and an apparent "pathos" of retrogrades only attract attention to the watches, considering their irregularity.

Perrelet Regulateur Retrograde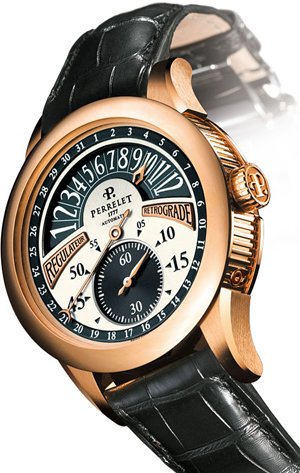 A sophisticated form of retrograde dial and an elegant design have been performed in the wrist watch "Regulateur Retrograde" from the oldest Swiss watch company "Perrelet". Founded in far 1777 by a talented watchmaker and genius inventor, whose legendary contribution into horlogerie can be compared, perhaps, with only great Breguet – Abraham-Louis Perrier, the watch brand Perrelet has been famous for its original models and new technological decisions of their performance since long time. So the retrogrades, winning more and more fans today, have become an integral part of Perrelet exclusive Swiss wrist watch collections, performing the missing grain of individuality that many classic wrist watches don't have – the clearness of lines is usually realized at the expense of exclusiveness. The wrist watch "Perrelet Regulateur Retrograde" is one of few examples of retrograde dials unique performance, the boldest ideas of which don't contravene the time readability. The main dial of Regulateur Retrograde is very interesting and requires a more detail description. Designed in black-white tones, it consists of several indication levels and completes best of all the whole image of the watch – individual classics, matching strict suit and emphasizing your sophisticated taste. An unusual retrograde indication of hours in separate aperture, so to say, at the "low level" strikes one's eyes at once: very beautiful elongate white Arab numerals, reminding of the Roman ones a bit, are semicircled at the black background in the upper part of "watch face". A classic hand, reminding the hands of floor clocks from horlogerie Renaissance, when a romantic striking of those huge clocks was melodically roaming in luxurious palaces and castles, slides on it. The bottom of hour hand id hided under the white "upper" level of dial, adorned with graceful letter "P" – Perrelet logo – and the year of company foundation. A bit lower, in the beginning and in the end of hour scale, the inscriptions "Regulateur" and "Retrograde" shine in golden frames, reminding of the watch peculiarity – regulator with retrograde scale – a quite rare item at the world watch market. The minutes are indicated by a supplementary dial, positioned at the bottom of the watch in a supplementary aperture at one level with the hour section. If it wasn't for the hand movement speed, it could be easily confused with the second counter. There are only white numerals "30" and "60" at the black circle, and the rest minute indications are at the upper level. They have various sizes and colors, but they are combined in a quaint minute dial, situated at two parallel planes at the same time. The date is indicated at the outer radius of the main dial, along the bezel. The queer hand, reminding of the second one, with a half moon at the end, makes a full circle and indicates the current date. And what about the second hand? It's absent! Is it necessary indeed? At our transient rhythm of life, when the days are slipping away, the years are flashing by, there's no sense to pay attention at seconds. All this dial beauty is surrounded by classic case, which can be made of gold or steel at the wish of client. The case is adorned with brand engraving and notable "P" at the crown. The wrist watch "Perrelet Regulateur Retrograde" is provided with automatic caliber Ð-221 and ascetic black leather strap with unfolding buckle. The men watch "Regulateur Retrograde" from the legendary Swiss company "Perrelet" is an striking example of a new insight to usual forms, new fashion – "individual classics".

Azimuth Round-1 Heures et Minutes Bi Retrograde PVD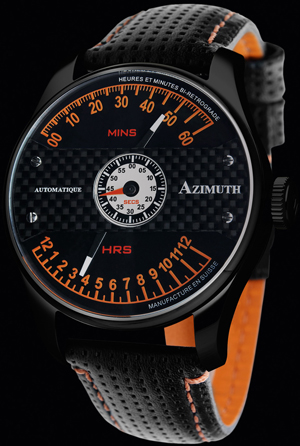 A sport retrograde chronometer in vintage style – the extraordinary wrist watch "Heures et Minutes Bi Retrograde PVD" from the new-sprung Swiss company "Azimuth" can be described just in this way. All collection "Round-1", including the watch "Heures et Minutes Bi Retrograde PVD", is simply saturated with spirit of 40s – the epoch, when simplicity gave birth to a new style, and that simple elegant style of past epoch found modern embodiment in the wrist watch "Azimuth Round-1". The extraordinary wrist watch "Heures et Minutes Bi Retrograde PVD" strikes one's eyes with its bold color combination of dial, case and strap. The 42-mm steel case with PVD treatment and thin bezel places the bi retrograde automatic movement with vivid digital indication on two sector dials. On top we can see the minutes, performed by bright-orange numerals, and below there are hour marking of the same color. Both dials are associated with some fantastic sport car of the future, extending boundaries, like all wrist watches of Swiss brand "Azimuth". The connection of this retrograde watch with speed and power is provided with a wide carbon strip across the dial, fixed with 4 screws and equipped with white second counter at the center – center of attraction at first glance at this amazing embodiment of unique style and individuality. This men chronometer is equipped with original perforated leather strap with bright-orange stitching, harmonizing the retrograde dials of Heures et Minutes Bi Retrograde PVD. The readability of retrograde watch has been out of question since a long time, and the uncommonness of "jumping hands" only adds exclusiveness. Simplicity is a key to perfection, but simplicity with a zest, presented by sector dials, is a key to successful watches, perfectly emphasizing your image and unique taste. As it's not easy to turn a simple watch into anything but simple!

Gerald Genta Octo Bi-retro

Gerald Genta is one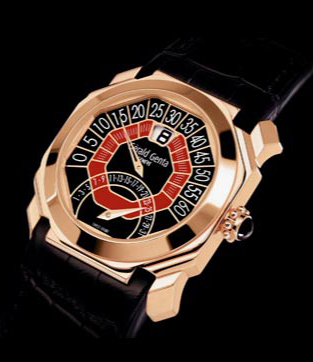 of relatively young Swiss brands, creating the trend of retrograde watches and improving their movements. The watchmakers of Gerald Genta deserve the credit of jumping hour and retrograde functions "reunion" in wrist watches. Making such movements considers certain technical difficulties, which didn't become a hindrance to the true experts of watchmaking, who issued such notable item, as a retrograde watch with "jumping hour" function. Geral Genta achieved absolute synchronous change of numerals in the aperture of hour and reverse "jump" of retrograde minute hand. In addition, the model is equipped with a retrograde date indicator at "6" hours. The maitre of horlogerie Gerald Genta founded its brand in 1969, working for other famous watch brands at the same time, and became famous for the design of some unique watch masterpieces. There's much we can say about the talent of Gerald Genta, considering that the legendary series of wrist watch "Royal Oak" from Audemars Piguet is his brilliant work. At present, renewing a collection of complicated elite watches of his own brand, the watchmaker Gerald Genta manages to take part in creation of coming watch hit for his friend and colleague Jean-Claude Biver from famous company "Hublot". The company "Gerald Genta" itself is a fountain of wrist watch unique series, recognizable at the first glance. The futuristic octagonal case of watches "Octo" is known by all fans and connoisseurs of wrist watches all over the world, and if the watches "Octo" were issued by a greater number, they would be known and valued by all amateurs of horlogerie. The massive case of wrist watch "Octo Bi-retro", making up 42,5 mm in diameter, is crafted in18-carat pink gold and represents a big octagon on a square base with a round dome-shaped anti-glare sapphire glass. The back case is fixed by 8 screws; the movement, adorned by "perlage", is seen through a small sapphire aperture. The crown is a real decoration, made in the form of small "steering wheel" with onyx cabochon. The water resistance of 100 m allows safely swimming and diving with this elite watch. The wrist watch "Gerald Genta Octo Bi-retro" is provided with a worthy black strap from alligator leather with a perfect brand finishing, considerably smoothed its surface. An interesting integration of the strap into the watch case makes it an integral part of a whole mechanism of a complete perfect style and unique design. An excellent brand buckle from polished gold completes this perfection. The movement of Octo Bi-retro îò Gerald Genta deserves a special attention. The double retrograde contains an automatic in-house movement of caliber 7722 with 45-hour power reserve. The brand module of jumping hour with double retrograde indicator was designed by the maitre's old good friends – great masters Christophe Claret and Jean-Marc Wiederrecht. The synchronous work of jumping hour and retrograde minute hand is not the only record of this movement. Wiederrecht used his famous "free-play" module in it for the first time, relieving the wheel gear from unwanted force moments play at reverse movement of retrograde hands. The wrist watch Gerald Genta Octo Bi-retro is distinguished by its exclusive design and is more like a control panel of some sport car or an indicator of interstellar ship than a watch. Perhaps, it would be difficult to read quickly the indications of this retrograde chronometer in the beginning, if you got used to classic indications. But if you spend five minutes and figure this interesting indication out more carefully, in future you'll define the time at a glimpse even at night. The big hand shows minutes, the small retrograde – date. The red octagon, inscribed in the black dial, completes the picture – the hands on this background are quite notable, even despite they are skeletonized and not covered with luminescence. The minute are set with the help of the crown, the hours – by means of a pivot and a button, sunk in the case wall. The watches of Gerald Genta represent an unusual approach to time indication in this usual watch world, where the true connoisseurs of exclusive things are difficult to surprise. Although only rich customers, who highly value horlogerie, can afford such exclusiveness from Gerald Genta.

Jaeger- LeCoultre Reverso Gran' Sport Chronographe Retrograde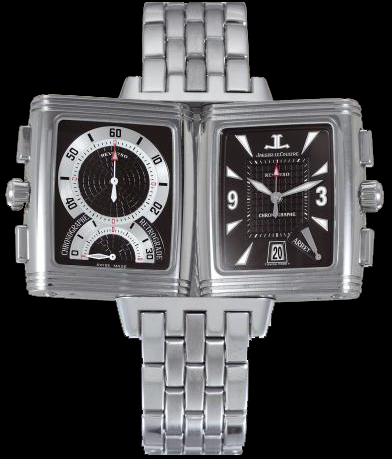 The wrist watch "Jaeger- LeCoultre Reverso" is safely considered to be a legendary and cult model, and it's connected with not only a unique double reversing case. The point is that the famous wrist watch by Jaeger- LeCoultre is the first official sport wrist watch in the history that was made by order of British militaries, fans of polo. This legendary model, provided with chronograph and retrograde second indicator, represents a real find for collectors and amateurs of watches with rich history. No one can cast doubt on recognizability of a watch, considered to be a horlogerie icon, therefore, the wrist chronograph "Reverso Gran' Sport Chronographe Retrograde" can be safely named a historic leading model of Jaeger- LeCoultre. Although the famous reversing case from polished steel became a bit bigger that its forefather of 30s, the watchmakers managed to bear the spirit of past pre-war epoch through decades and embody it in the modern model of legendary watches. By modern standards the unusual sport chronometer from Jaeger- LeCoultre has rather small sizes. It won't look enormous even on the wrist of a man of medium build and won't cause inconveniences for its owner in any sport activities. The total design of the watch "Jaeger- LeCoultre Reverso" is rather ascetic. The dial on the back case with 60-minute chronograph counter and 30-second retrograde scale is partially guilloched. And no excesses, since it's a sport watch. The sapphire glass case is provided with not very "sporty" water resistance – only 50 m, therefore, it's not good for Scuba-diving. The model is equipped with steel bracelet and comfortable amazing rubber strap with patterned surface. The strap is fixed by a brand butterfly-buckle with patented fixing system, adjusting its length up to 4 mm, according to seasons and day time. Usually in summer wrists are wider that in winter. In the evening, after the sport activities are done, the rubber strap can be replaced by the bracelet, and the watch will match a business suit. Many watch companies are afraid of using retrograde dials because of constant irregular moments of force in a wheel gear during reverse movement of retrograde hand with second indication. But the watchmakers of highest class from Jaeger- LeCoultre, sure in decision of that problem, don't consider it as a hindrance. The watch company "Jaeger- LeCoultre" hasn't been principally certifying its watches in COSC since a long time, but there's no ground to doubt in accuracy of brand caliber 859 – a round hand-wound movement. It's a bit thicker than the standard movements by Jaeger- LeCoultre for Reverso series; its balance frequency makes up 28 800 a/hour at power reserve of 44 hours; it is decorated by hand with pattern "Cotes de Geneve". Absence of self-winding movement keeps the legendary model a bit "grounded", although many fans of Jaeger- LeCoultre brand consider that it's an obvious plus, as self-winding watches are quite heavier that manual winding ones. The functionality of wrist chronometer "Reverso Gran'Sport Chronographe Retrograde" from the sport collection of Jaeger- LeCoultre meets all requirements of sport world. The enlarged screwing crown completes the image of sport-watch. The relief dial is provided with four luminescent spots and a trapezoid date aperture at "6" hours. The hands are luminescent that allows reading the time at night. The elegant and perfect watch "Reverso Gran' Sport Chronographe Retrograde îò Jaeger- LeCoultre" is worth of praises for its ergonomics and comfort of wearing, especially that the unique sport chronometer turns into an elegant men watch, accompanying its owner at a business meeting, with a "subtle movement of the hand".

Carl F. Bucherer Manero Retrograde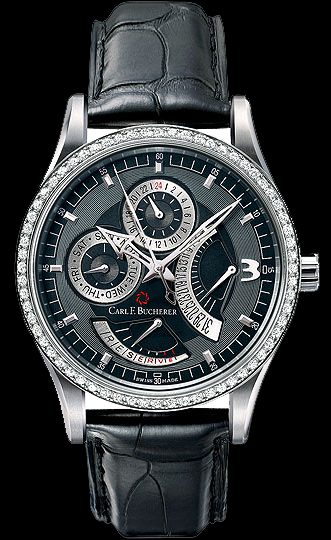 Sometimes you see a wrist watch that you can't pass by and we can't but tell about it. Just like the model "Retrograde" from the famous line "Manero" of the watch company "Carl F. Bucherer". The watches Manero are predicted by watch experts to become one of the leading collections of Carl F. Bucherer. This young series is already completed with a split-chronograph, a watch with GMT and Lunar calendar and a model with retrograde date indicator. The name "Manero" originates from an Etruscan ritual weapon – hand hatchet, depicted in the sector of retrograde date scale and power reserve indicator. The retrograde watches became ones of the first models in the new line "Manero" and won certain glory among Swiss watch connoisseurs in a quite short time. But some time is still required for the specific form of retrograde dial become recognizable at the first glance. The company "Carl F. Bucherer" offers watches with rather miniature and neat case among many famous retrogrades. The case of "Manero Retrograde" makes up 40 mm in diameter at 11,5-mm thickness. The watch will perfectly suit to men with medium wrists and won't look enormous. You can see the result of painstaking work of engravers, decorating the movement, through the sapphire glass back case. The case is crafted in stainless steel and its water resistance makes up 3 atmospheres. The golden case is offered to especially sophisticated connoisseurs of horlogerie, naturally at different price. An elegant case is equipped with not less neat black strap of alligator leather with classic simple buckle of steel. The strap is optionally replaced by a neat steel bracelet. The wrist watch "Carl F. Bucherer Manero Retrograde" is provided with the movement of caliber CFB 1903, based on ÅÒÀ 2892-À2 and completed with brand calendar module. Besides the retrograde date, the module includes indicator of second time zone, hand indicator of week days and indicator of power reserve. Apart from the original module, the movement with 28 800 a/hour frequency of balance and 42 hours of power reserve can boast of sophisticated engraving of bridges by hand, turning the watchmaking into the art. The men watch "Manero Retrograde" from Carl F. Bucherer will give a head start to many members of retrograde family by its set of functions. The watch owner will have to read indications of seven hands. Three of them are in the center, showing hours, minutes and seconds. A dial for the second time zone is at "12" hours, and at "9" hours there is a dial for indications of week days; "3" and "9" hours placed the "hatchets" of retrograde date and power reserve scale. Because of great number of functions the watchmakers had to use rather minor markings in additional dials. You can see them only at good lighting. The skeletonized hands are not luminescent, therefore, their visibility at the dial background depends on a visual angle: at one position the hands don't strike one's eyes, at another one they are rather clear. The use of some functions is not very convenient. For example, the GMT indicator is corrected with the help of pressing a hidden button in the case by a special pivot-pusher. And since a modern successful man is constantly on the move, crossing different countries, he needs to use this function quite often and to take a pusher with himself or press the button with some available instruments. True, all other indicators are adjusted by the crown, small and neat. The form of case is very comfortable for wearing on wrist, and a perfectly polished sapphire glass and a strap of sophisticated finishing will hardly cause allergy to inconvenience. The total image of ergonomic watch "Carl F. Bucherer Manero Retrograde" is completed by the weight of only 87 grams, equipped with the strap. The watch is almost imperceptible on a wrist.

Maurice Lacroix Masterpiece Calendrier Retrograde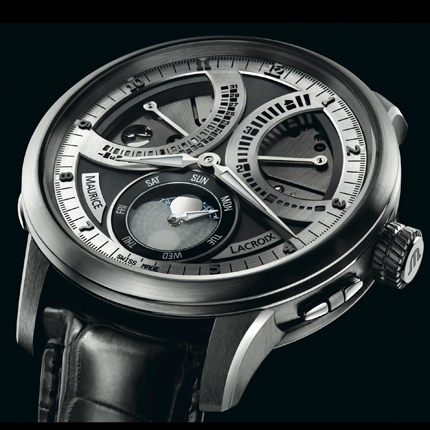 One can distinguish the models of wrist watches from Maurice Lacroix at the first look by specific unusual dials, which bring the watch brand to the level of "retrograde king". The men watches "Masterpiece Calendrier Retrograde" with and without tourbillon brought worthy world popularity to the watch company "Maurice Lacroix". An excellent unique design of Masterpiece Calendrier Retrograde, which deserved a great number of international awards, became a form-factor of the company, winning more and more fans among connoisseurs of horlogerie each day. That model indeed became the center of the most successful international advertising campaign of Maurice Lacroix. The total appearance of this watch dial creates an impression of two retrograde indicators, but in fact, the sector at "2" hours is nothing but a power reserve indicator. The modern case is most recognizable. The model of wrist watch "Maurice Lacroix Masterpiece Calendrier Retrograde" can be presented in three variants: gold, steel and bicolor. However, the case is designed for a quite big wrist, its diameter makes up 43 mm. The watch shines with its smoothed and perfectly polished angles, but it's not distinguished by standard ergonomics. The wrist watch "Masterpiece Calendrier Retrograde" with "high ride" on wrist will strike one's eyes from a distance and may be not really comfortable for everyday use, therefore, it will have to be taken off to put on clothes with tight sleeves. The back case is made of crystal sapphire glass, through which you can see the bridges, skillfully adorned with Cotes de Geneve, and the blued steel screws. The golden variant of case is made of 750 pink gold. Also the watch isn't distinguished by special water resistance, only 30 meters, that will allow safely washing the hands and walking under the rain, but swimming and diving – with another watch, please. The men watch "Maurice Lacroix Masterpiece Calendrier Retrograde" is equipped with a smooth strap from crocodile leather with elegant classic buckle of the same metal, the case of this retrograde is made of. This leading model by Maurice Lacroix works on the movement ML 76, based on a quite rare manual winding caliber for pocket watches Unitas 6498 with balance frequency 18 000 a/hour and power reserve of 42 hours. Absence of self-winding movement and a relatively modest power reserve may seem to be disadvantages, from the one side, but from the other side, a fewer number of details in the movement considers greater reliability of the watch itself. The module of retrograde date indicator, created by the watchmakers of Maurice Lacroix, evokes special interest. It is distinguished by amazing simplicity: a volute spring is always ready to bring the hand in initial position, but until the moment required a transfer wheel with a special field without jags, starting after the 31st tooth, serves as a hindrance. When the hand gets into that place, it returns smoothly to the beginning of retrograde scale, and a C-shaped cut for a stop on the wheel of date indicator provides clear set at "1" hour. True, in 30-days months you'll have to turn the hand of retrograde date into initial position by yourself, but it's not a perpetual calendar, and a relatively modest price of the item proves it. The indication of wrist watch "Masterpiece Calendrier Retrograde" deserves special attention. The use of retrograde scale played a positive role in the total design of the dial: the retrograde date in combination with the opposite power reserve indicator and the second counter at "6" hours casts association with or some nice smiling face, or a mysterious astronomic map. You can easily read the time on the wrist retrograde watch "Masterpiece Calendrier Retrograde": the blued hands are well noticeable at the silver dial, but non-luminescent hands and, therefore, impossibility to read the time at night add the fly in the ointment. The time adjustment is quite easy – and the comfort of use is an unquestionable plus.

Triple Retrograde Roger Dubuis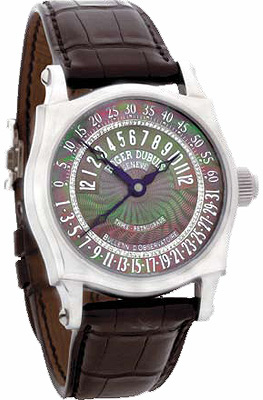 Long before the establishment of the watch brand "Roger Dubuis" its creator, a famous master of extraordinary watches, Roger Dubuis was designing unique retrograde watches that made him glorious even before the issue of first wrist watch under his name. In collaboration with Jean-Marc Wiederrecht he designed a watch with biretrograde calendar for the world-known watch company "Harry Winston". Nowadays the brand "Roger Dubuis" manufactures very limited series of retrogrades with Lunar calendar, biretrogrades and even unusual triple retrogrades, like the wrist watch "Triple Retrograde Roger Dubuis". At first glance this watch can be referred to classics: there are three hands at one axis. And only if you look more carefully at the dial, you'll see a completely different picture: the main display is divided into three sectors with retrograde hours, retrograde minutes and, naturally, retrograde calendar. The fans of notable Roger Dubuis brand will easily recognize their like-minded persons in owners of such intricate watches. The chronometer is also a worthy member of retrograde family. A rather unusual case, reminding of some wrong pillow with pointed angles, despite its exclusive rarity, is quite recognizable and even unforgettable. The noticeable case of Triple Retrograde Roger Dubuis and classic buckle of strap are made of 750 white gold. The bridges of movement can boast of skillful guilloching, and the rotor – of sophisticated golden brand monogram; they can be admired through a supplementary aperture at the back case. The case itself is made in the form of big screw, informing with big letters about series limit and number of certain timepiece. An unusual design of the case, which looks like neither a pillow, nor a square, nor a circle, guarantees relative long-term popularity of the model – this watch will hardly get you bored soon. Moreover, in spite of its impressive size – 43 mm in diameter, the wrist watch "Triple Retrograde" from Roger Dubuis will be good for any wrist. The water resistance is ordinary – 3 atmospheres. But the main privilege of this model is an automatic movement RD 5799 with power reserve of 44 hours and a unique module, designed by Roger Dubuis and Jean-Marc Wiederrecht. It is specific for a fantastic synchronous work of all three retrograde hands and extraordinary accuracy. True, the watch with no second hand hasn't received the COSC certificate, but its creator hasn't got upset as the triple retrograde by Roger Dubuis received a chronometer certificate, passing successfully the tests in the observatory of Geneva, proved by an inscription on the dial "Bulletin d'Observatoire". The wrist men watch "Triple Retrograde Roger Dubuis" represents a unique rare retrograde with all hands on one axis that gives the chronometer a classic appearance and elegance. True, in the beginning such indication may bewilder both fan of retrograde and amateur of classic models – one needs to obtain some experience to read the time quickly. A matchless dial consists of two levels. The upper, mother-of-pearl, level contains all indication scales. The low, golden, one shines by its sophisticated guilloche, created by hand. The golden markings and numerals, as well as the hands of blued steel, are easy to read; generally the indication of Triple Retrograde Roger Dubuis is rather original. The calendar adjusting button is inserted in the crown, therefore, the data correction doesn't require some additional instruments or quaint manipulations. The case is quite ergonomic and almost imperceptible in combination with a high-quality finished strap, fixed to the anatomically curved staples. The model of Triple Retrograde Roger Dubuis represents a perfect combination of price and quality, especially that, paying for this item, you obtain a really exclusive thing, as there are only 28 pieces in the world.

To be continued ...