The German company Buben & Zorweg presents the first Time Mover Handwound box for winding the watches with manual winding. Until now, there were no boxes for mechanical watches with manual winding. Buben & Zorweg is the first company that produces boxes. Thereby it wrote a new page in the history of luxury accessories.
In the development of a new kind of boxes, the most difficult step was to create a delicate pressing. The box is equipped with an electronic sensor that determines the changes in spring winding until it reaches an optimal state. The mechanism stops as soon as the full spring winding is reached. The caliber starts delicately as it can be done manually: special rollers grab the crown and transmit data to the electronic control system.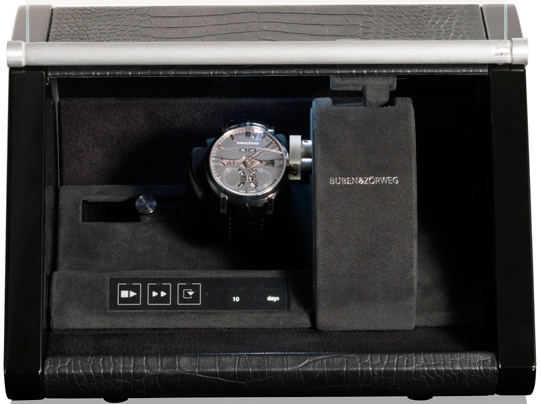 Time Mover Handwound Box by Buben & Zorweg
Thanks to high-speed mode of the winding, one can quickly make a mechanism in the event that the watch is in daily operation. But the collector mode performs the watch winding during certain periods, allowing the balance spring to fully operate. While the watch is winding, it saves the evenness of stroke and high precision.
Time Mover Handwound is a high security operation, automatic deactivation when fully wound, elegant system of winding, easy to use, versatile settings and modes, as well as the work for the battery.
The new box is suitable for all types of watches with manual winding.
Written by Angel
03.12.2013