| | |
| --- | --- |
| New C900 Single Pusher Chronograph Watch by Christopher Ward | |
British watchmaker Christopher Ward presents to the public its new product - a C900 Single Pusher Chronograph watch, fitted with a unique mechanism of manual work with a rare complication: automatic chronograph can start work, stop and reset with a single button!
The watch dial of C900 Single Pusher Chronograph with an additional one second and a 30-minute counter is fully developed in the workshop of Christopher Ward.
And, as it is already mentioned, the main feature of the new model is its unique mechanism that is completely made by hand. By and large - is a converted caliber Unitas 6497, which is designed by Johannes Jahnke, who turned the movement into a terrific caliber!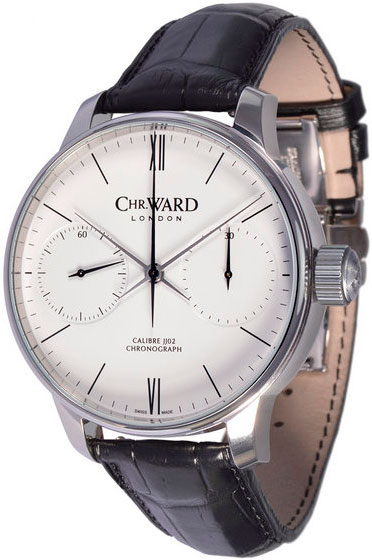 C900 Single Pusher Chronograph
First of all, all the details of the mechanism and its work will be able to watch through a transparent case back. Among other things, Johannes has rebuilt the bridges of the movement, added a mobile carriage, and turned the automatic winding system and the central and second's wheels.
Company representatives indicated that such arrangements are going to just hand of one man is rare, even in the most expensive watches. However, all 250 items of C900 Single Pusher Chronograph watch are collected either by Johannes or his assistant Frank Stelzer.
To buy original hand-made watches by Christopher Ward will be available for 2,450 pounds, on request, from late August until mid-October in 2012.
Official website of Christopher Ward watches.
Written by Anno Domini Bastet *
15.08.2012
Christopher Ward C60 Trident Timepiece
The watch brand Christopher Ward has released a new model C60 Trident, the creation of which the masters inspired by the 1954 Rolex GMT Master watch. The novelty is presented in two versions: green and red.
22.02.14 Comments(0)

New C1000 Typhoon FGR4 Timepiece by Christopher Ward
The famous watchmaker Christopher Ward presents a new watch C1000 Typhoon FGR4, issued in honor of the fourth-generation multipurpose fighter Typhoon FGR4, which currently is in service with the RAF.
21.09.13 Comments(0)

New C8 Regulator Timepiece by Christopher Ward
The watch brand Christopher Ward has introduced a new model C8 Regulator with separate minute and hour hands. The minute hand is placed in the center of the dial, and the hour and the second - on the individual indicators at the 12 and 6 positions.
13.08.13 Comments(0)

C9 Harrison Jumping Hour MKII Timepiece by Christopher Ward
The watch manufacture Christopher Ward has released a novelty C9 Harrison Jumping Hour MKII with jumping hour. Compared to other models with the usual time indication, the hours are displayed in the aperture with a Roman numeral at the 12 o'clock position.
03.04.13 Comments(0)

Christopher Ward Presents C9 Harrison Blue Automatic Chronograph
Christopher Ward is a British watch company that produces watches in Switzerland. Today the company has announced the release of the new limited series C9 Harrison Blue Automatic Chronograph, named after the famous English clockmaker John Harrison - a founder of the marine chronometer.
22.09.12 Comments(0)

Christopher Ward Presents its Green Novelty
British watchmaker Christopher Ward, founded in 2004, has released a new C7 Rapide MK II watch, executed in a dark-green color. The model combines a sporty style of the 50's watches with a touch associated with many brilliant victories of Britain in the field of sports.
19.08.12 Comments(0)



English watch brand Christopher Ward was founded in 2004 in London by three friends who decided to revolutionize the world of watches, releasing luxury timepieces at an affordable price. At first glance, the project was seemed very doubtful, many could hardly believe in its success. But the result of the project exceeded all expectations. C5 Malvern Automatic and C3 Malvern Chronograph are the first watches Christopher Ward, and the first proof of the success of the project. They were released in 2005. In 2006, the brand launched C5 Malvern Aviator Chronograph and C4 Peregrine Chronograph. ...
Detailed information Christopher Ward