Information watch portal montre24.com special for lovers of luxury watches presents an exclusive video clip dedicated to the watch company Paul Picot, which widely presented its products at the annual exhibition - fair BaselWorld 2012. The watch company Paul Picot was founded by Mario Boyokki in 1976. Development of the watch company Paul Picot had on the crisis years in the Swiss watch industry, in a period of intense competition with Japanese and American brands. During the period of rapid growth and widespread popularity of electronic technologies Mario Boyokki offered stylish cases with traditional mechanisms of high quality. Today, the watch company Paul Picot offers a wide choice of wrist watches made of variety of materials and in different colors of cases, in which are enclosed the mechanisms with complex functions. However, despite this set of characteristics, Paul Picot watches are in the middle price range. Paul Picot watches are very popular among divers and sailors, as in the collection of Paul Picot are presented high-quality models specifically designed for these sports.
So, let's look at the novelties Paul Picot 2012 at BaselWorld 2012. Hall of Paul Picot at BaselWorld 2012 was a huge building in several stories, which are distinguished by magnificent internal decoration. For BaselWorld 2012 the company prepared a lot of watches, but its main focus became "icon watches" of Paul Picot. At the beginning of prepared by the team of montre24.com video clip was briefly talked about the company.
So, the first presented model was Paul Picot limited wrist watch with diamonds. The watch case is fully decorated with diamond pavé. Watch case is made of gold or platinum. This model is presented in a single copy.
Another interesting presented model was Megarotor watch. Firshire Megarotor is a very elegant men's watch with case in diameter of 42 mm, which perfectly complement the representative look of any man. Watch is equipped with a unique caliber with rotating rotor. The unique development by its size reaches 5.8 mm, ensuring reliability and accuracy of the watch for a long time. Model Megarotor is presented in three versions: the model Firshire Ronde - Day & Date, the model Firshire Ronde - Moon phase and the model Firshire Ronde - Regulator.
Another presented collection that perfectly characterizes the company Paul Picot, was collection Plongeur. Plongeur collection includes sporty models with a useful set of functions. Plongeur watch is not only a diver's watch, but it is also a very stylish accessory. Plongeur watch is covered durable sapphire crystal, which is extremely resistant to various kinds of scratches.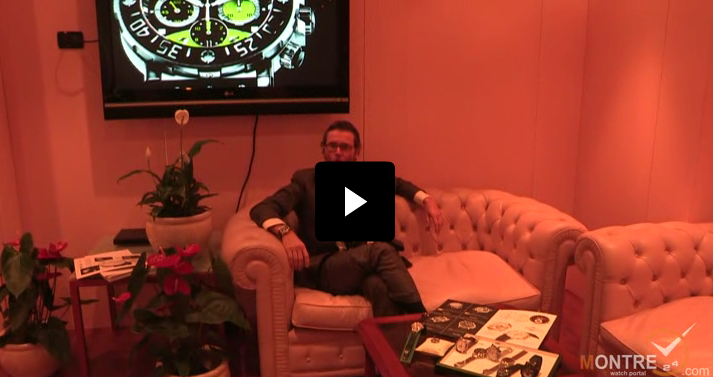 Paul Picot watches presentation at BaselWorld 2012
At the BaselWorld 2012 the company also presented a new version of watch color for itself: full white dial and strap. The white color looks very stylish on the sports models Plongeur with automatic mechanism.
The next presented model was Firshire Extraflat watch, which is an elegant watch creation. In my opinion, Firshire Extraflat watch resembles models of Longines, however, despite this, the model Firshire Extraflat is gorgeous.
There was also a model Technicum, which is one of the most famous models of Paul Picot. Demonstrated model wasan updated version of Technicum, made entirely in black and with black PVD - coating. Through the transparent case back you can see the work of the internal mechanism, fully finished by hand.
After was presented new diver's watch with case in diameter of 48 mm, released in limited edition. This is a pretty solid accessory that will probably be too heavy on the hand of the diver. Watch case is made of durable titanium with DLC coating. In this watch are used different shades of gray, which gives the watch brutal character.
As for the cost of Paul Picot, the price of the model Plongeur in the titanium version is 8,000 Euro, the cost of the model Technicum is 4,200 Euros, the price of the model Firshire Extraflat is 3, 200 Euros, the cost of the white model Plongeur is 3,200 Euros, the price of the models from Megarotor collection is 3.500 Euros, the price of the model in white gold and diamond pavé is about 70,000 CHF.
More clearly see the novelties Paul Picot 2012 at BaselWorld 2012 is possible by clicking on the following link - http://montre24.com/video/202/.
Official site of Paul Picot watches.
Written by Freya
25.06.2012