Let me first introduce you to the novelty of a young watch company Helson, based divers and underwater sports enthusiasts from Europe and Asia.
The novelty - Titanium Gauge watch, presented in a titanium casing with the main and most important indicator of the deep watch - an impressive indication of water resistance - 1,000 meters!
As the representatives of the company note, the peculiarity of the watch has become not only a waterproof indicator and a titanium case equipped with a helium valve escapement.
The case, among other things has a double anti-reflective sapphire crystal. Winding crown in diameter is 7.9 mm. In addition, the novelty differs from other models Helson with a smaller case. Thus, the width of the case Titanium Gauge - 47 mm, height - 16.8 mm.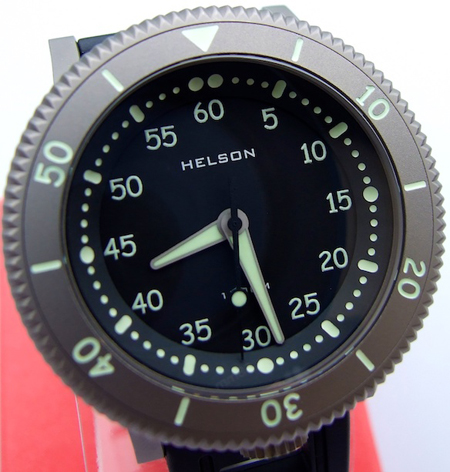 Summer, Ocean and Titanium Gauge Diver's Watch
The Titanium Gauge watch weighs 130 grams, and is engraved on the back side with an image of a diving suit.
As for the colors used for the external design of the model, we should note that they are quite restrained. The titanium case is gray, a dial is black. It is pretty boring and unremarkable combination, especially for watches that are designed for the depth and specificity of its "demand" in the brightness of the design.
There is another, in my opinion, unnecessary and complicated "refinements" of the watch - minute time indices instead of hours. Well, that carried away by the originality, the producers have not forgotten about the vital importance for the deep watch of a luminescent coating. But I was just in passing.
As far as the technical basis, the watch mechanism is based on the ETA 2824-2. A strap - in the style Isofrance, with a clasp engraved with Helson.
To buy the Titanium Gauge watch will be available at a price of $ 899 in stores of Helson.
Official website of Helson watches.
Written by Anno Domini Bastet *
05.06.2012