Watchmaker Christiaan van der Klaauw has introduced a new watch Real Moon Joure of the Real Moon line. Real Moon line is unique in its masterpieces of horology with a wonderful complexity – indication of moon phases. On the fine dials of the models at the 6 o'clock position there is a three-dimensional miniature of the moon, showing by the rotation of the current moon phases. The moon makes a complete revolution around the Earth for 29 days, 12 hours and 44 minutes. The mechanism of the moon phase display, built into a new model Real Moon Joure, deviates from these calculations only for a day every 5400 years.
The round case of the novelty in diameter of 40 mm is made in three versions: stainless steel, rose or white gold. The front side of the case is equipped with an anti-reflective sapphire crystal, which serves also as a transparent back side. The crown is located on the case at the 3 o'clock position.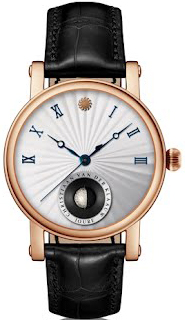 Real Moon Joure watch - your moon is always with you!
The Real Moon Joure watch operates on the basis of a modified mechanism CVDK 1094 with self-winding and the manufactory module Real Moon. The functions of the mechanism consist of the display hours, minutes, seconds and moon phases.
Decorated with excellent guilloche, the dial in black or silver color is graded by large Roman numerals. Time indexing on the dial is carried out by means of the central hours, minutes and second's hands made of blued steel.
The Real Moon Joure watch is delivered on an alligator black strap with a buckle from a material that matches the case material.
To buy the watch will be available through the authorized representatives of the company Christiaan van der Klaauw.
Official website of Christiaan v.d. Klaauw watches.
Written by Lucy Vuiton
31.05.2012