The watch brand Hentschel, whose headquarters is located in the heart of Hamburg, has announced the release of a new model H2 Hafenmeister, symbolizing a maritime tradition of the company and its commitment to the marine theme. Not by chance, the name of the model H2 Hafenmeister in German means "harbor master".
The company Hentschel has won fame for its high quality mechanical watches, and the presented novelty H2 Hafenmeister, released in a limited quantity of just 28 copies - a striking confirmation of this. Moreover, it should be noted that each model is collected, polished and decorated by hand.
The round case of the novelty from stainless steel is decorated with inlays of longitude and width coordinates of the Hamburg Marine Observatory and an engraved inscription «Hafenmeister» and serial number. The diameter of the case is 38.7 mm. On the front of the case is protected by a curved anti-reflective sapphire crystal. The case is waterproof to 50 meters.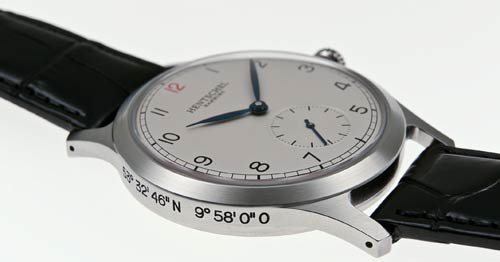 Hentschel H2 Hafenmeister LE
Cream satin dial tone highlights of bright red numeral 12, and leaf-shaped central hour and minute hands give the dial refinement. The dial is marked by large Arabic numerals. The small second's hand is put to the lateral display, set at the 6 o'clock position.
The model H2 Hafenmeister operates on the basis of mechanical manual winding mechanism, which provides 37-39 hours of power reserve. The novelty is delivered on an alligator black strap and equipped with a folding clasp in stainless steel. The model is equipped with a special system Quick-change, due to which you can change the strap in one motion.
H2 Hafenmeister watch is in warranty period for 61 months. To buy the watch will be available through the authorized representatives of the company Hentschel at a price of 3980 Euros.
Official website of Hentschel watches.
Written by Lucy Vuiton
30.05.2012