| | |
| --- | --- |
| An exclusive video clip of Ellicott from BaselWorld 2012 on montre24.com | |
The information watch portal montre24.com has been added by an exclusive video clip of Ellicott, which presented its new products at the annual exhibition BaselWorld 2012. The pavilion of Ellicott was a fairly large building, in the glass windows of which were placed new items of 2012 by Ellicott. The entire design of the pavilion was different by sense of taste and sophistication.
The watch company Ellicott - is, first and foremost, family traditions, which are carefully preserved and handed down from generation to generation. Today the company is a producer of classical time meters, fully matured in the finest traditions of Haute Horology, and how the company manage it – can only judge you.
At the annual exhibition of BaselWorld 2012 the company Ellicott introduced its novelties of current year, among of which found its place a historical museum piece - a pocket watch Ellicott. Obviously, the presentation of Ellicott began precisely with this pocket watch because every time the company tries to focus on the long history and a tribute to watch making tradition.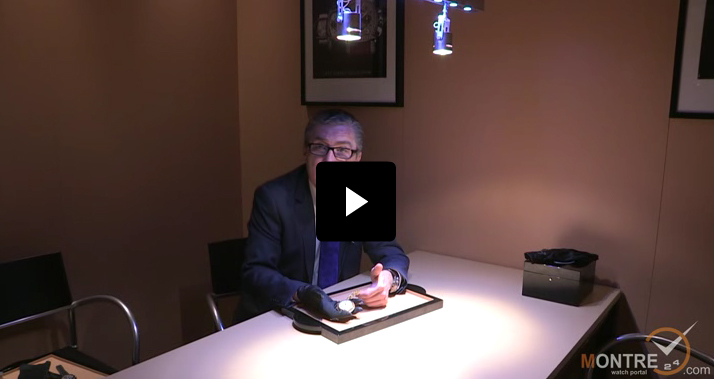 Ellicott watches presentation at BaselWorld 2012
This pocket watch was made of 18 - carat gold in London in the 18th century. On the enamel dial displays hours and minutes function. After was presented the novelty of 2012 - a one-button chronograph, which has become addition to the sports collection. On the dial, in my view, the mixing of different functions and the use of multiple colors creates some confusion. Through the case back can be seen work of the internal mechanism, but you do not see where the escapement, since the master laid bare it to eyes on the dial. Next was presented a new model - Master Complication SR 48, which was a tribute to the Royal Society. This model is equipped with a full date and minute repeater. The model is made of 18 - carat gold entirely by hand - another indisputable proof of the commitment to tradition. At the end of the video clip was provided information about the company's major markets, as well as promising and attractive for the company in the short term.
If you decide to buy Ellicott watch, so the video clip provides the prices of presented models. For more information and to get acquainted in more detail with new models by Ellicott at the BaselWorld 2012 is possible by clicking on this link - http://montre24.com/video/135/.
Official site of Ellicott watches.

Written by Freya
29.04.2012
New Royal Skeleton Watch by Ellicott
Ellicott dynasty of watchmakers began in London in 1687, when John Ellicott was a disciple of John Waters. He was so talented that in 1738 he became a member of the Royal Society.
01.06.13 Comments(0)

Ellicott Master Complication RS 38 Timepiece
The watch company Ellicott announces the release of its next model Master Complication RS 38, presented in a 42-mm case with a thickness of 10 mm in rose gold.
09.03.13 Comments(0)

The new technical excellence - men's watch Ellicott SkyEagle at BaselWorld 2012
Bright representative and supporter of the best British watch traditions of 17th, 18th and 19th centuries, the watchmaker Ellicott, who "moved" in the Swiss town La Chaux-de-Fonds, at the annual exhibition BaselWorld 2012 introduced a new men's watch from the collection of Mach One - chronograph with automatic winding SkyEagle.
23.03.12 Comments(0)



Ellicott, a legendary watch brand, had been remaining unseen for a long period of time. And only in the 21th century, the world discovered brilliant Ellicott wrist watches. Ellicott watches have come to the fore due to the wonderful combination of traditions and cultural transmission of Ellicott dynasty. The Ellicott watchmaking dynasty began in 1687 in London, when John Ellicott became a pupil of John Waters. Following in his father's footsteps, John Ellicott II was studying the watchmaking trade. He was so talented, that by 1738 he had become a member of the Royal Society. Later, he entered the Council and began t...
Detailed information Ellicott