| | |
| --- | --- |
| Fine Ajourée Grenouille Watch by Boucheron at BaselWorld 2012 | |
French jewelry company Boucheron, known for its exclusive luxury creations distinguished with elegance and superb design that continues to amaze everyone. This time she will present at the worldwide exhibition BaselWorld 2012 the gorgeous watch Ajourée Grenouille, which means from "the openwork frog."
The novelty is presented in a circular case of 18-karat white gold, which is equipped with a gold bezel set with diamonds. Case diameter is 38 mm, and thickness - 6.8 mm. The novelty for its size and excellent appearance will please the representatives of the beautiful half of the planet.
The whole dial of the model is made in white, covered with white lacquer and decorated with a flower at the top and a frog on the left side. The frog is made of pink sapphires and rubies, and for creating eyes are used dark - green tsavorites. The flower is also made of rubies and pink sapphires, and in the central part shines a green tsavorite. A great combination of different stones creates a beautiful picture and stunning luster.
In the right lower part of the dial is a single white dial, reminiscent of the empty space that is complemented with two hands, and the brand name at the "12 o'clock" position. The dial is protected by an inner anti-reflective sapphire crystal. A small dial is framed in a separate gold case set with diamonds. The diameter of the small case is 18 mm, and thickness - 6.8 mm. The model comes on a strap of white matte satin. The watch water resistant is 30 meters.
The Ajourée Grenouille watch is equipped by a quartz movement with the adjustment button to set the hours and minutes, which is located at the bottom of the case.
For the production of the model required 311 germs: 127 diamonds, 151 pink sapphires, 30 rubies and 3 tsavorites.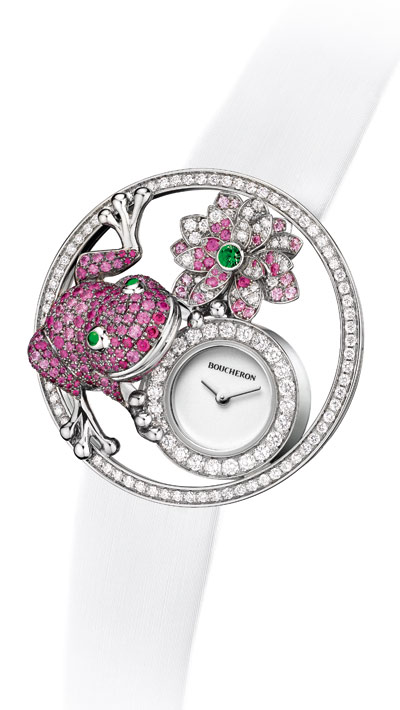 08.03.2012
Models by Boucheron at GPHG 2013
At the upcoming known contest Grand Prix d `Horlogerie de Genève 2013, the Swiss watch brand Boucheron will introduce three models of luxury watches: Epure Tourbillon Vitis in the category Ladies` Complications Watch, Ajourée Héra in the category Jewellery Watch, and Epure Je pense à toi in the category Artistic Crafts Watch.
30.09.13 Comments(0)

Hibiscus Tourbillon Watch by Boucheron
Masters of Boucheron, winning the watch market with luxury products in a unique design, remain faithful to its tradition of "luxury" and precious perfection.
07.06.12 Comments(0)

A perfect jewelry watch Hera Tourbillon by Boucheron
The watch company Boucheron has pleased its fans with the new women's watch Hera Tourbillon. The new jewelry watch Hera Tourbillon is a perfect union of modern watchmaking and fine jewelry.
08.12.11 Comments(0)

An Oriental Luxury of L'Orientale by Boucheron
The watch company Boucheron has pleased its fans with a new model wristwatch L'Orientale, the design of which, as its name implies, reflects the company's extraordinary passion for the East and its sumptuous decorations.
21.11.11 Comments(0)



Boucheron is a French jewellery company established by Frederic Boucheron in 1858. In 2002 the PPR/Gucci Group took possession of the company where four generations had changed. The Boucheron brand is famous for its luxurious masterpieces which feature refinement and unique design. Quite recently the Boucheron company has started collaborating with the MB&F brand. In 2005 Maximilian Büsser left a place of a head of the Harry Winston company to establish the MB&F - Maximilian Büsser and Friends company which must be engaged in producing exclusive watches....
Detailed information Boucheron