| | |
| --- | --- |
| News of Montre24.com: Exclusive video of Badollet at the GTE 2012 | |
Watch informational portal Montre24.com presents an exclusive video of Badollet, which gives a unique opportunity for all fans of watchmaking to make an acquaintance with the masterpieces of Badollet watch brand, presented at the annual exhibition GTE 2012. Badollet watch company has introduced its unique watches with many complications. Our website Montre24.com presents you a video clip http://montre24.com/video/45/, looking at which you will be familiar with the company's novelties and join the magical world of precision mechanics.
Geneva Time Exhibition - one of the significant events of the watch industry, held annually in the Swiss town of Geneva. Nowadays, the main purpose of the exhibition is the creation of optimal conditions for the realization of watch companies' production. Annual Exhibition GTE is the great opportunity to familiarize the general public and professionals with the innovations of watch industry, innovative achievements in the field and to share new ideas. The exhibition GTE is exhibited the best creations of the global watchmaking, which embodies the boundless beauty and great skill.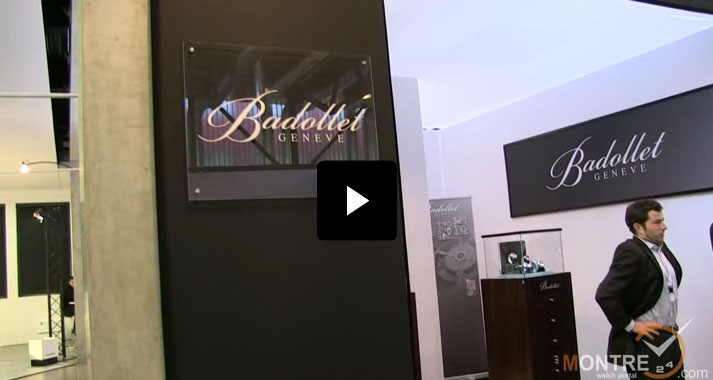 25.02.2012
New Crystalball Round Bamboo Watch by Badollet at GTE 2012
The well-known watch company Badollet at Geneva Time Exhibition (GTE) has announced a new watch Crystalball Round Bamboo. As every model of the legendary watch company Badollet, the novelty presents the embodiment of brand values and a desire for simplicity, avoiding the artificiality and seeking exclusivity.
26.01.12 Comments(0)



The watch brand Badollet is one of the oldest companies in the world. It was founded in Paris in 1655 by Jean-Marc Badoglio. For generations, the company created high standards in the sphere of watchmaking. The company continued its activities until 1924, when by the result of the financial crisis it was forced to declare bankruptcy. After a nearly 80-year breaking, thanks to the efforts of the descendants of the Badollet family, the company revived in 2006. Modern Badollet with dignity continues the traditions of House Badollet. The watches of Badollet are for innovation and sophistication. In the...
Detailed information Badollet